drum cake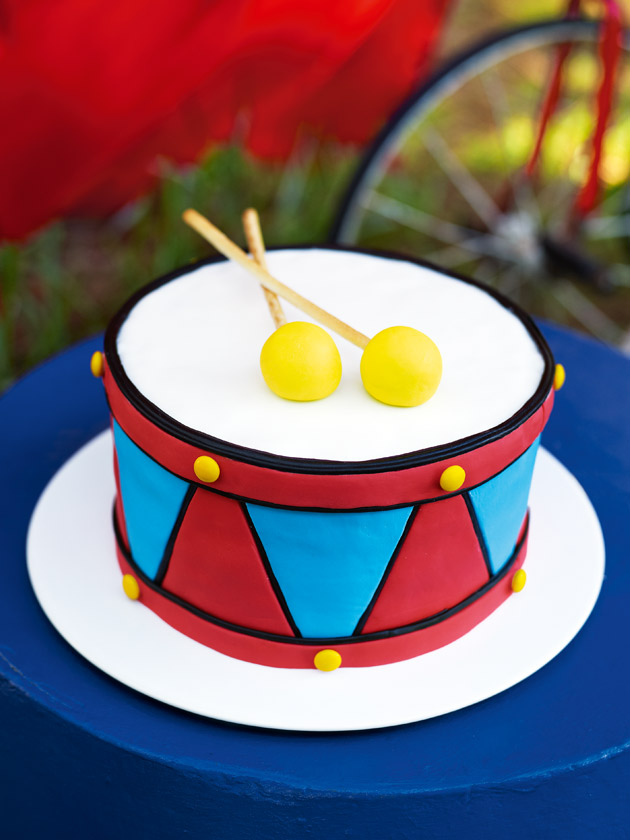 2 x quantities basic vanilla cake (see link to recipe in step 1)

1 x quantity butter icing
(see link to recipe in step 4)

2 x 500g packets store-bought ready-to-roll fondant icing

blue, red and yellow food colouring

yellow candy-coated chocolates, licorice strap and

2 long bread sticks (grissini), to decorate

Preheat oven to 160°C (325°F). Pour the basic vanilla cake quantities into 2 x 22cm round lightly greased cake tins lined with non-stick baking paper. Bake for 1 hour and 25–30 minutes minutes or until cooked when tested with a skewer. Cool in tins for 10 minutes before turning out onto racks to cool completely.
Knead 300g of the ready-to-roll icing on a clean surface until pliable. Add a drop of red colouring to the icing, adding more until desired colour is achieved, and knead until colour is even. Repeat process with 250g of icing and blue colouring, and 80g of icing and yellow colouring. Set aside.
Roll the red and blue icing out between 2 sheets of non-stick baking paper to 3mm-thick and use a 10cm x 12cm x 12cm triangle template (see donnahay.com for template) to cut 7 triangles from each colour. Roll the remaining red icing into 2 x 2cm x 68cm strips. Roll the uncoloured icing out to 3mm-thick and cut a 22cm-round from the icing.
Using a palette knife, spread 1 cake with ⅓ of the butter icing. Sandwich with remaining cake and spread the top and sides with the icing, reserving a little for decorating.
Place the red and blue triangles, tip to base, around the sides of the cake in alternating colours. Outline each triangle with licorice strap. Place the white icing round on top of the cake and outline with licorice strap. Use some of the reserved vanilla icing to place the red strips along the bottom and top of the triangles and the candy-coated chocolates onto the strips.
Divide the yellow icing into 2 equal portions, roll into balls and push into the breadsticks. Place the drumsticks on top of the drum to serve. Serves 10–12.
There are no comments for this entry yet.