edamame avo smash super-green fritters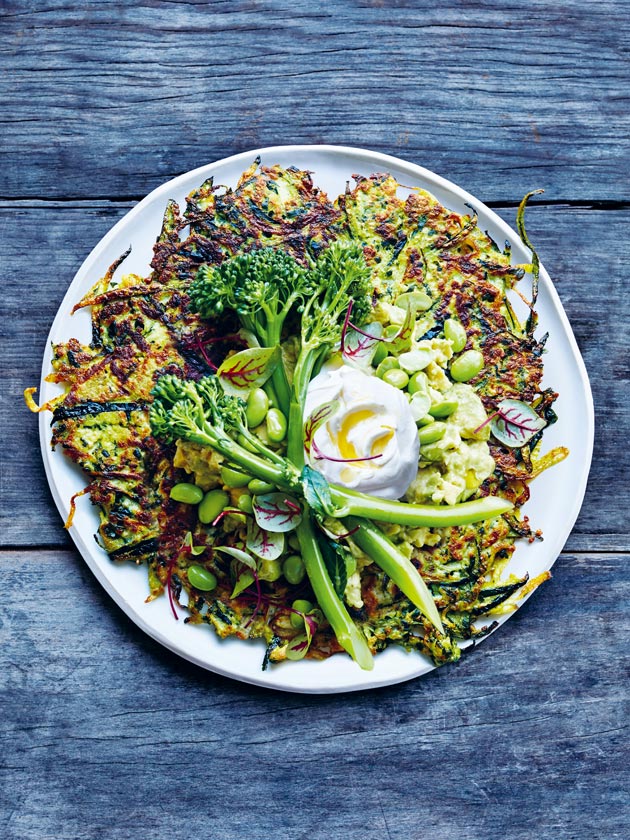 1 x quantity spinach and zucchini fritters (see link under recipe)
1 x quantity edamame avo smash (see link under recipe)
240g (8½ oz) broccolini (sprouting broccoli), trimmed and blanched
½ cup (12g/½ oz) small red-veined sorrel leaves
¾ cup (210g/7½ oz) labne or plain Greek-style (thick) yoghurt
extra virgin olive oil, for drizzling
sea salt and cracked black pepper
Divide the fritters between serving plates and top with the edamame avo smash and broccolini. Sprinkle with the sorrel leaves.

Place a large spoonful of the labne onto each

frittata, making a small indent with the back of the spoon. Drizzle the labne with oil and sprinkle with salt and pepper to serve. Serves 4
TIPS + TRICKS
+ We so often associate green vegies with lunch or dinner, but I'm quite partial to serving these feel-good fritters for breakfast too – especially on a Saturday! Just add soft-poached eggs in place of the labne and top with a little fresh chilli if you like it.
Photography: Con Poulos
Diana Gaze
It's a very simple and delicious recipe. Made it for lunch today and enjoyed eating eat. I was a bit worried about flipping the fritters, as I didn't want them to fall apart, but they kept their shape well (maybe because I have a really good new frying pan
I couldn't find edamame beans in my local supermarket, so I used frozen broad beans in the avo mash. Will make it again!