fire-engine cake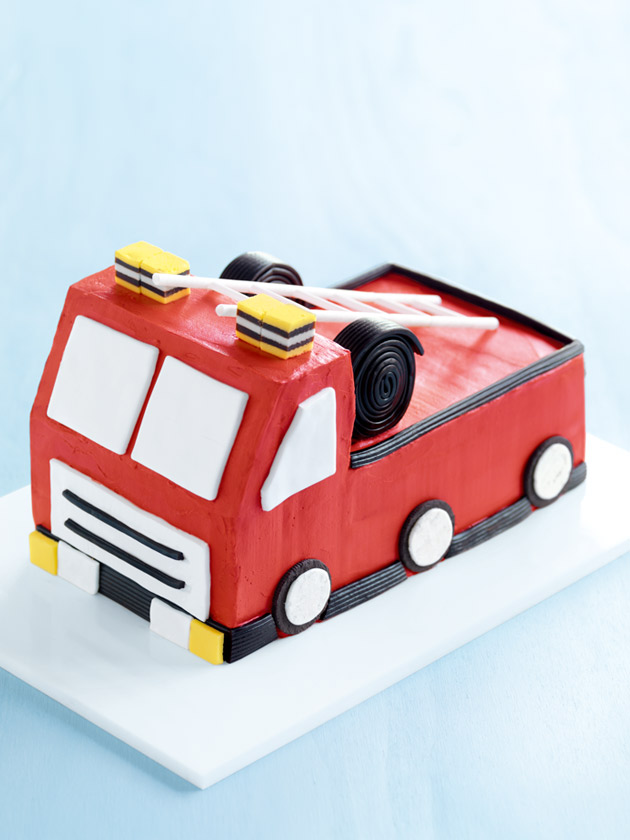 3 x quantities basic chocolate cake (see link to recipe in step 1)

red food colouring

200g store-bought ready-to-roll fondant icing

5 x yellow, white and black licorice allsorts

6 x chocolate cream biscuits, tops removed

2 x licorice straps, plus extra 2, for hoses
cream cheese icing

150g butter, softened

825g cream cheese, softened

2¼ cups (360g) icing (confectioner's) sugar mixture, sifted

Preheat oven to 160°C (325°F). Follow the basic chocolate cake recipe and divide mixture between 2 x 17cm-square and 2 x 17cm x 22cm lightly greased cake tins lined with non-stick baking paper. Bake the square cakes for 1 hour and 10–15 minutes and the rectangular cakes for 1 hour and 20–30 minutes or until cooked when tested with a skewer. Cool in tins for 5 minutes before turning out onto wire racks to cool completely.

To make cream cheese icing place the butter and cream cheese in the bowl of an electric mixer and beat for 8-10 minutes or until pale and creamy. add the icing sugar and beat for a further 6-8 minutes or until light and fluffy. Add a few drops of red food colouring and mix to combine, adding more until desired colour is achieved. Set aside

Slice 1 side, at an angle, from 1 square cake, brush away crumbs and discard the small piece. Place the rectangular cakes on top of each other and secure to the cake board with some icing. Spread the top of the uncut square cake with icing and sandwich with the cut cake. Stand the square cakes upright against the rectangular cakes, ensuring the cut cake is at the front, and secure with icing (see image, left).

To decorate, use a palette knife to spread the cake with the cream cheese icing. Press the biscuit halves onto the sides of the truck, at even intervals, to make the wheels. Trim the licorice straps and use to create the outline of the truck.

Knead the ready-to-roll icing on a clean surface until pliable and roll out between 2 sheets of non-stick baking paper to 3mm-thick. Cut 4 x 6cm squares from the icing and cut a small corner from 2 of the squares. Place these squares on the sides of the truck to make the cabin windows and place the remaining squares on the front to make the windscreens.
Cut a 12cm x 5cm rectangle from the icing. Place the rectangle on the front of the truck, under the front windows, to make the grill. Cut 2 x 10cm pieces of licorice, brush them with water and adhere to the icing. Place 4 licorice allsorts on top of the truck to make lights. Trim the yellow layers from the remaining allsort and secure to the licorice bumper with icing to make headlights.
Cut 2 x 2cm x 3cm rectangles from the icing, brush with water and adhere to the bumper to make a second set of headlights. Place 2 licorice straps in the back of the truck to make hoses. Make a ladder from straws and place on truck. Serves 10–12.
There are no comments for this entry yet.