ghost cake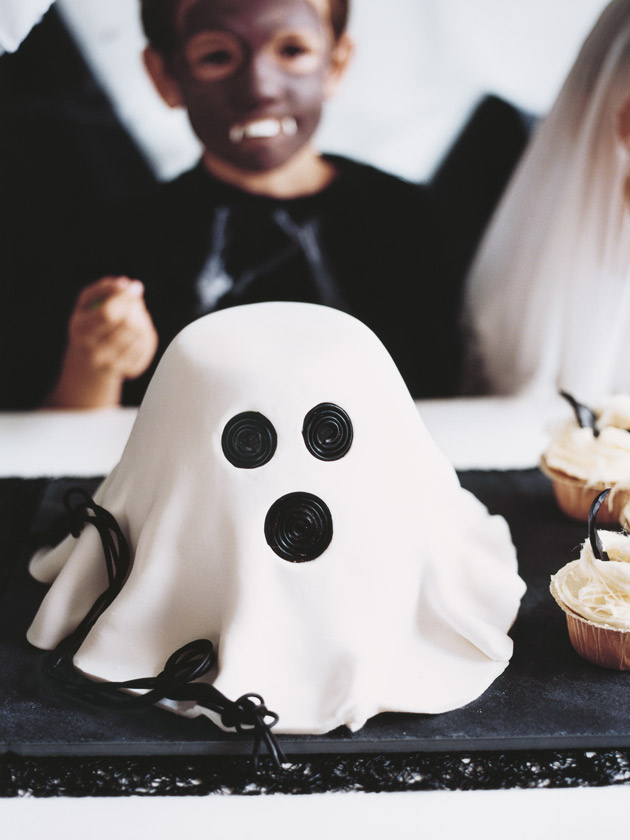 base cake
185g unsalted butter, softened

1 teaspoon vanilla extract

¾ cup (165g) caster (superfine) sugar

2 eggs

1¼ cups (185g) plain (all-purpose) flour, sifted

¼ cup (30g) cocoa powder, sifted

2 teaspoons baking powder

2 tablespoons milk

for decorating
1 quantity butter icing
(see link to recipe in step 4)

2 quantities ready-to-roll icing
(see link to recipe in step 5)

120g liquorice strap

Preheat the oven to 160°C (320°F).
Place the butter, vanilla and sugar in the bowl of an electric mixer and beat until pale and creamy. Gradually add the eggs, beating well after each addition. Add the flour, cocoa and baking powder and mix well. Add the milk and mix well.
Spoon the mixture into an 18cm (7 in) round cake tin lined with non-stick baking paper. Bake for 45–50 minutes or until cooked when tested with a skewer. Leave in the tin for 10 minutes then turn out onto a wire rack to cool.
Use butter icing to secure the base cake to a board. Spread the top with a little butter icing and top with the pudding basin cake. Spread the whole cake with the remaining butter icing.
To decorate, roll out the ready-to-roll icing to 4mm (¼ in) thick. Carefully place the icing over the cake, folding the edges to create a sheet effect. Use a 2cm (¾ in) round cookie cutter to cut out the eyes and a 3cm (1 in) cookie cutter to cut out the mouth. Cut 3 rounds from the liquorice strap to fit the eyes and mouth and insert into the icing holes. Serves 12.
There are no comments for this entry yet.