halloween ghost cookies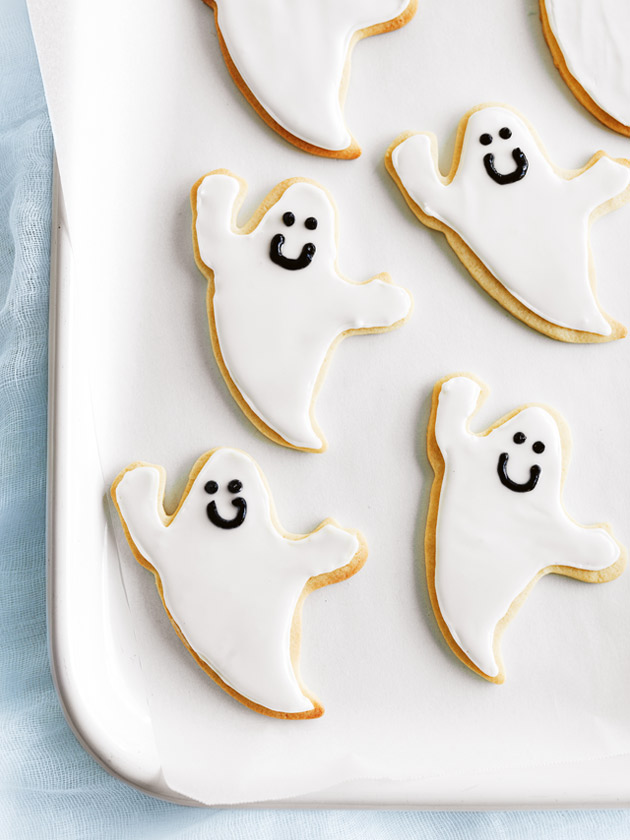 125g unsalted butter, softened

½ cup (110g) caster sugar

1 egg

2 teaspoons vanilla extract

1½ cups (225g) plain flour, sifted

black writing icing pen+

icing
3 cups (480g) icing sugar, sifted

2 eggwhites

2 teaspoons boiling water

Place the butter and sugar in the bowl of an electric mixer and beat for 6–8 minutes or until pale and creamy. Add the egg and vanilla and beat for 2–3 minutes to combine. Add the flour and beat until the mixture just comes together to form a dough.

Roll the dough between 2 sheets of non-stick baking paper to 3mm thick. Refrigerate for 30 minutes or until firm. Preheat oven to 160°C. Cut cookies out using a ghost-shaped cookie cutter and place on 2 baking trays lined with non-stick baking paper. Cook for 8–10 minutes or until golden. Allow to cool slightly before transferring to a wire rack to cool completely.

To make the icing, place the sugar, eggwhites and half the water in a bowl and mix to form a smooth paste. Place half the mixture in a piping bag fitted with a 2mm nozzle and pipe the outline of the cooled cookies. Add the remaining water to the remaining icing. Use a spoon to fill in the piped outlines with remaining icing. Allow to set for 30 minutes. Use the icing pen to draw faces on the cookies. Makes 14.

+ Writing icing pens are tubes with small nozzles that are perfect for writing with icing. Find them in the baking aisle at supermarkets.
There are no comments for this entry yet.