honey butter layer cake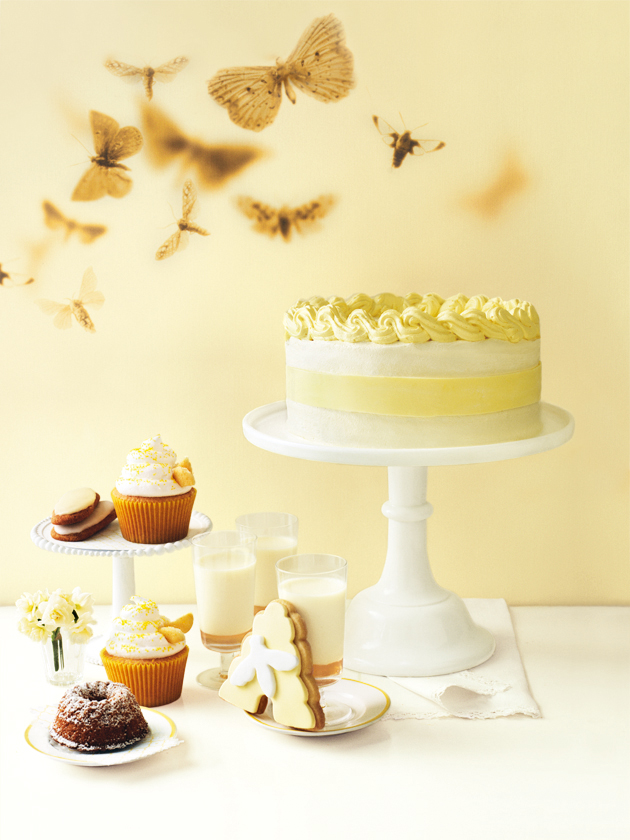 2½ cups (375g) plain (all-purpose) flour, sifted

1½ teaspoons baking powder, sifted

1¾ cup (385g) caster (superfine) sugar

250g butter, melted

4 eggs

1½ cups (375ml) milk

1 teaspoon vanilla extract

cornflour (cornstarch), for dusting

250g ready-to-roll fondant icing and yellow food colouring, to decorate

honey butter icing
500g butter, softened

4 cups (640g) icing (confectioner's) sugar, sifted

1 teaspoon vanilla extract

¹⁄³ cup (120g) creamed honey

Preheat oven to 160ºC (325ºF). Place the flour, baking powder, sugar, butter, eggs, milk and vanilla in a large bowl and mix until well combined. Spoon the mixture into a lightly greased 20cm round cake tin lined with non-stick baking paper and bake for 1 hour 30 minutes or until cooked when tested with a skewer. Allow to cool in the tin for 5 minutes before turning onto a wire rack to cool completely. Carefully slice the cake into 3 layers+.
To make the honey butter icing, place the butter in the bowl of an electric mixer and beat for 6–8 minutes or until pale and creamy. Add the icing sugar, vanilla and honey and beat for a further 6–8 minutes or until light and fluffy. Reserve ¼ of the icing, add a few drops of yellow food colouring and stir to combine.
To assemble the cake, spread 1 cake layer with ¼ of the plain icing. Top with another cake layer and repeat with remaining layers and icing. Ice the whole cake with the remaining plain icing. Dust a flat surface with the cornflour and knead the ready-to-roll icing until smooth. Add a few drops of yellow food colouring to the icing and knead until the colour is even. Roll out to 3mm thick and, using a small, sharp knife, cut a 3cm x 30cm band. Secure the band around the centre of the cake.
Place the reserved yellow icing in a piping bag with a 1cm fluted nozzle and pipe onto the top of the cake to decorate. Serves 8–10.
+ To slice the cake into 3 layers, use a serrated knife and carefully slice the cake while pressing down gently on the top with your hand.

donna hay team
Hi Linsey, if you wrap the cake in baking paper and cling film then you can keep it refrigerated for up to three days. Happy baking!
Linsey Werner
Hello, wondering how far in advance you could make this cake (without freezing or icing)? Is 4 days too long? And how would it best be stored before icing and serving? Thank you!