individual berry and yoghurt pavlovas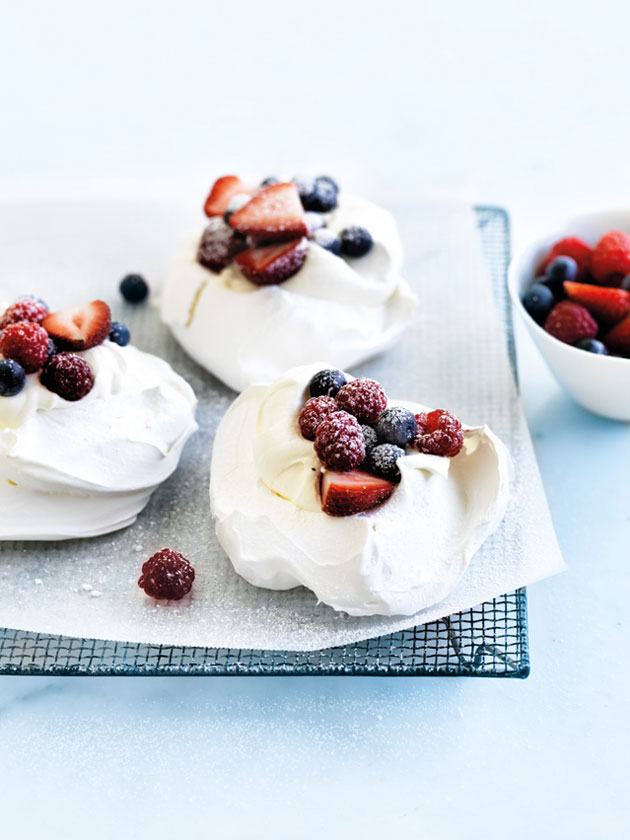 150ml eggwhites (approximately 4 eggs)

1 cup (220g) caster sugar

1 teaspoon white vinegar

1 cup (250ml) single (pouring) cream

2 tablespoons icing sugar, sifted, plus extra for dusting

⅓ cup (95g) natural Greek-style (thick) yoghurt

mixed fresh berries, hulled and halved, to serve

Preheat oven to 150°C. Place the eggwhites in the bowl of an electric mixer and whisk on high speed until stiff peaks form. Gradually add the sugar 1 tablespoon at a time, waiting 30 seconds before adding more. Whisk for 6 minutes or until stiff and glossy.
Scrape down the sides of the bowl, add the vinegar and whisk for 2 minutes or until glossy and combined. Spoon 6 rounds of meringue onto a large baking tray lined with non-stick baking paper. Using a small spoon, make an indent in the centre of each meringue. Reduce the oven temperature to 120°C and bake for 30 minutes or until crisp to the touch.
Cool in the oven for 1 hour. Whisk the cream and icing sugar until soft peaks form. Add the yoghurt and whisk until just combined. Top meringues with the yoghurt cream and berries. Dust with icing sugar to serve. Serves 6

Leezie Stables
Made these for Christmas Day. The mixture ended up making 12 not 6. Fantastic idea making an indent as this helps pouring cream/yoghurt on top.
Helen Jackson
Great mixture, i made smaller individual pavs, making 15 and I needed 40 minutes to be crisp. Going to use for xmas pav grazing platter
donna hay team
Hi Narisa, you can make the pavolvas up to two days in advance and store in an airtight container. We recommend leaving the toppings to just before serving, to avoid sogginess – The DH Team.
Narisa Mellor
Can I make the pavlova bases a couple of days before?
Can the yoghurt cream and berries be put on earlier on the day required or will this make them go soft or soggy?
donna hay team
Hi Michelle, cornflour is used to stabilise large pavlovas. Because these are individual they will hold their own weight. The DH team x
Michelle Potter
Can I ask why there is no cornflour in this pav recipe?