kale, pea and ricotta fritters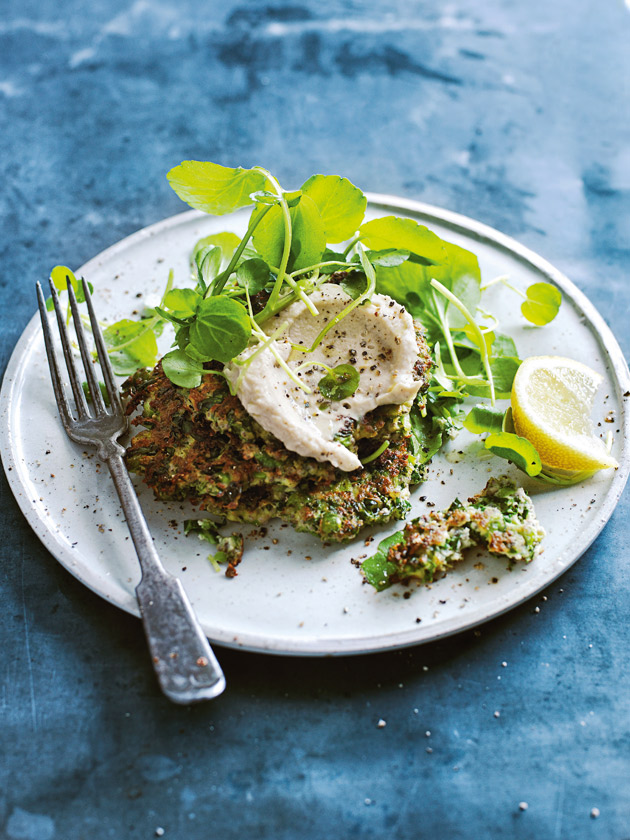 1 cup (120g) frozen peas, thawed and crushed

3 cups (150g) finely shredded kale leaves

1 cup (240g) fresh ricotta

3 eggs

¼ cup (50g) chia seeds

1 tablespoon finely grated lemon rind

2 tablespoons chopped mint leaves

sea salt and cracked black pepper

2 tablespoons extra virgin olive oil

baba ghanoush, watercress sprigs and lemon wedges, to serve

Place the peas, kale, ricotta, eggs, chia seeds, lemon rind, mint, salt and pepper in a bowl, mix to combine and allow to stand for 20 minutes. Shape the mixture into 2-tablespoon patties and flatten slightly.

Heat a little of the oil in a large non-stick frying pan over medium heat. Cook, in batches, for 2–3 minutes each side or until golden, adding more oil as necessary.

Divide between serving plates and top with baba ghanoush. Serve with watercress and lemon wedges. Makes 16

Photography: Chris Court
donna hay team
Hi Gabriele, You will find these fritters can fall apart if the mixture has not sat for 20 minutes to allow the chia seeds to swell and bind the mixture. When shaping the mixture, be sure to press them quite firm so they keep their form when cooking. Hope this helps!
Gabriele Schoenfeld
Iam disappoined these fritters fall apart even I did them exactly according to recipe
donna hay team
Because the fritters have ricotta in them the texture will change slightly after freezing. But you can keep them cooked in the refrigerator for up to 4 days - enjoy them cold or heat them before eating. The DH team
Ursula Boutry
This sounds sooo delicious…can a batch be made and then frozen…far too much for a meal for two!