lemon thyme, honey and almond cake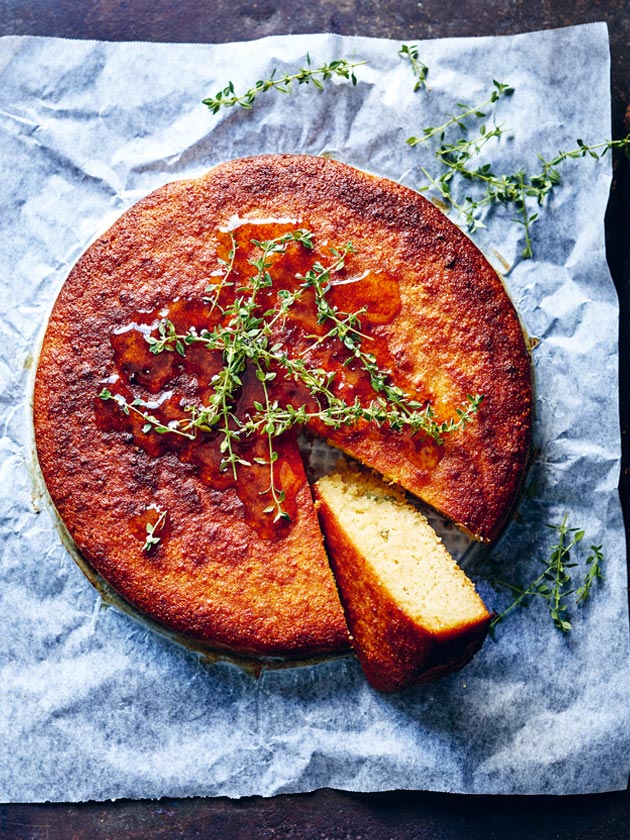 ¾ cup (270g/9½ oz) honey

4 eggs
¼ cup (60ml/2 fl oz) light-flavoured extra virgin olive oil
1 tablespoon lemon thyme leaves
1 tablespoon finely grated lemon rind
¼ cup (60ml/2 fl oz) lemon juice
3 cups (360g/12½ oz) almond meal (ground almonds)
1 teaspoon baking powder
extra honey, for drizzling
extra lemon thyme sprigs, to serve
plain Greek-style (thick) yoghurt, to serve (optional)
Preheat oven to 160°C (325°F). Line a 22cm (8½ in) round springform tin with non-stick baking paper.

Place the honey and eggs in a large bowl and whisk

to combine. Add the oil, lemon thyme, lemon rind and juice and whisk to combine. Add the almond meal and baking powder and whisk until smooth.

Pour the mixture into the tin and bake for

35–40 minutes or until golden and cooked when tested with a skewer. Allow to cool in the tin for 10 minutes.

Remove the cake from the tin and place on a cake

stand or plate. Drizzle with extra honey and scatter with extra thyme sprigs. Cut into wedges and serve with yoghurt. Serves 12
TIPS + TRICKS
+ This lemony cake is one of my most requested recipes. It's also the cake I make when I need to prep something sweet in advance – it's dense and moist, meaning it keeps well, plus I find the flavours continue to develop over time. Store it in an airtight container for up to 10 days.
Photography: Con Poulos
Christie C
Great recipe! Super easy (the hardest part was measuring everything out), and cooked in 35 minutes. Thin batter. Didn't rise as high as expected, but cooked perfectly and great flavour. May try slightly smaller tin next time.
Fasong Kim
This cake is surprisingly good! I can see why it's so popular, it's one of the easiest desserts you can make. Lemon and honey go so well together. I followed the recipe and it came out exactly as suggested - perfectly baked at 35 mins. It didn't rise as much as I expected but it was just right. The almond meal gives it the density, so it's quite heavy and filling.
James Brookmyre
I LOVE this cake and have made it several times and recommended the recipe to friends and family. Donna is absolutely right in that the flavours develop after cooking and so preparing this in advance is a good idea. However, the method itself isn't totally accurate and I'm yet to speak with anyone else who has made it who has successfully made it by following this recipe to the T. The mix is much thicker than you see in Donna's promo video for the recipe, and takes around 50 mins to cook through. Having now made it 5 times and spoken with friends who've also made it, we've all have the exact same experience. I still love it and will continue to make it, but the finer details of the method need reviewing.