mint, pea, spinach and
chia fritters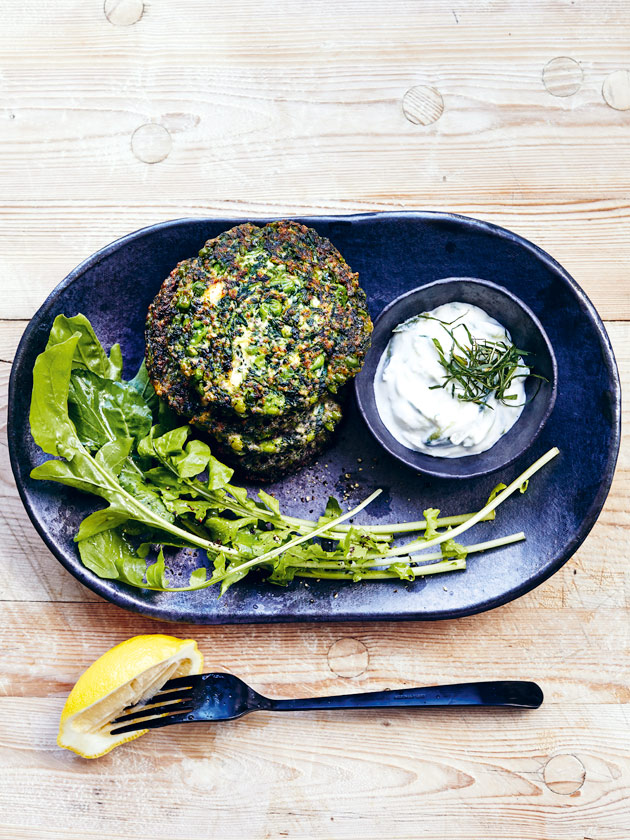 1 cup (120g) frozen peas, thawed
250g frozen spinach, thawed
½ cup (8g) mint leaves, chopped
¼ cup (6g) dill sprigs, chopped
1 cup (240g) fresh ricotta
2 eggs
¼ cup (50g) chia seeds
sea salt and cracked black pepper
extra virgin olive oil, for cooking
lemon cheeks, to serve
rocket, to serve
store-bought tzatziki, to serve
shredded mint leaves, extra, to serve
Place the peas in a large bowl, crush with a fork until partially mashed and set aside.
Place the spinach in a sieve and press to remove the excess water. Place between sheets of absorbent kitchen paper and squeeze to remove any remaining moisture. Roughly chop the spinach, add to the peas and mix to combine.
Add the mint, dill, ricotta, eggs, chia seeds, salt and pepper to the pea mixture and mix to combine. Allow to stand for 10 minutes.
Heat a large non-stick frying pan over medium-high heat. Add a little oil to the pan. Using wet hands, shape ¼-cup portions of the mixture into patties. Cook, in batches, for 3 minutes each side or until golden brown, adding more oil to the pan as necessary. Remove the fritters from the pan and keep warm. Divide the fritters between serving plates with the lemon cheeks, rocket and tzatziki. Sprinkle with extra mint to serve. Makes 8
TIPS + TRICKS
+ I always make a few more of these clean green fritters than I need – just wrap and keep them in the fridge for 1–2 days – they're the best for school lunchboxes or to add to your work salad.
+ These fritters are also great for party nibbles. Cook 1-tablespoon portions of the mixture and top them with a small spoonful of tzatziki. If you like, add a little smoked salmon to serve.
Photography: Con Poulos
There are no comments for this entry yet.