molten choc-chunk 
brownies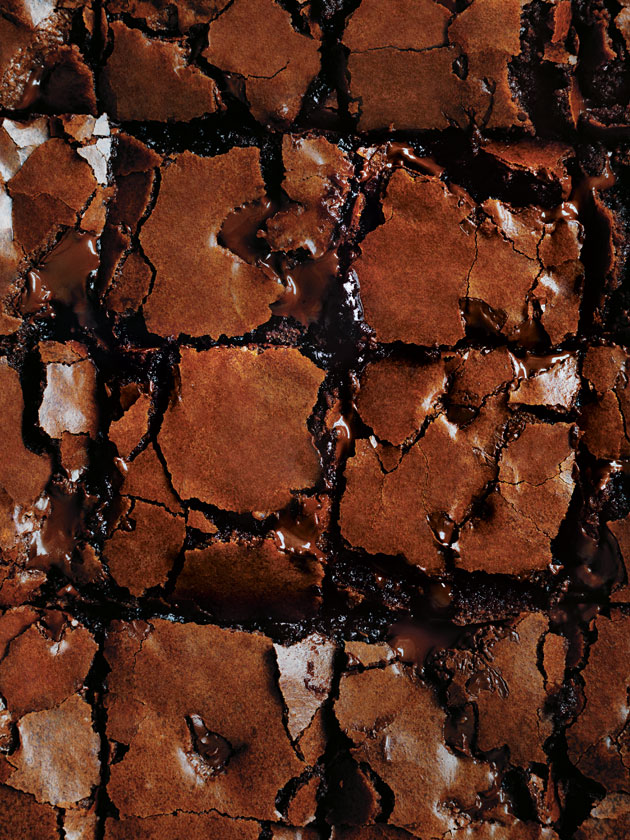 1 cup (150g) plain (all-purpose) flour

¾ cup (75g) cocoa

¾ cup (130g) brown sugar

1⅓ cups (290g) caster (superfine) sugar

175g unsalted butter, melted and cooled

1 teaspoon vanilla extract

3 eggs

125g dark chocolate, chopped

Place the flour, cocoa, both the sugars, the butter, vanilla and eggs in a large bowl and mix until smooth.

Add the chocolate and stir to combine.

Preheat oven to 160°C (325°F).

Lightly grease a 20cm square tin and line with non-stick baking paper.

Spread the mixture into the tin.

Bake for 50 minutes – 1 hour or until the brownie is set+.

Allow to cool in the tin for 5 minutes before slicing into squares and serving warm, or allow to cool completely in the tin. Makes 16

NOTE
+ The brownie is ready when the top feels set to the touch.
TIPS
If you're not serving the brownie warm, let it cool in the tin, then turn out and slice into squares. It'll continue to set in the tin, but stay soft and fudgy in the centre.
The two types of sugar in these brownies work their magic in different ways. Caster sugar lends sweetness and helps 
create a smooth and crispy top. Brown sugar adds to the rich, moist centre.
Brownies will keep in an airtight container for up to 1 week.
Sharon Couvret
Loved this recipe dead easy and big hit ...perfect
Naomi Van veen
This tasted nice, but felt that it was a bit cakey.. did anyone else find that? Any suggestions would be welcome
Kirsten Fox
Simple enough for my 11 year old to make by herself! Delicious. We baked for only 40 minutes and left to cool in the tin and they were gorgeously fudgy. Just perfect!!
Leena Tennyson
Best Brownies ever
Never fails
Ellie Labike
I decreased the brown sugar to 100 gr and the caster sugar to 200 gr and baked the brownie for 40 minutes and it was perfect.
It was super rich - next time I might try white chocolate chips instead of dark ones, but the brownie was a big hit with everyone at my NY's eve party!
Tui Hicks
Has anyone tried without the chocolate bits?
Ansa Van der Merwe
Amazing!! Will never use another recipe! The BEST brownie ever!!