nacho bowls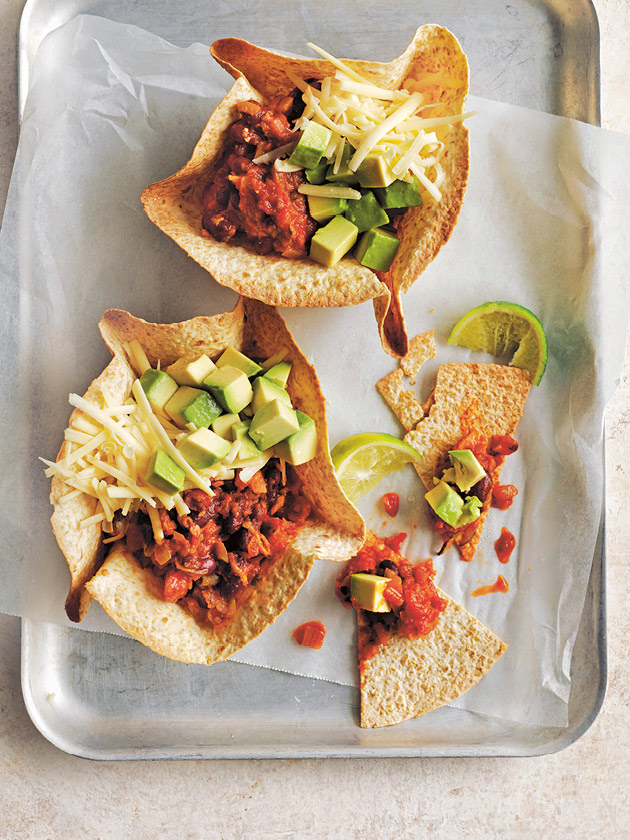 6 x 20cm wholemeal flour tortillas

extra virgin olive oil, for brushing

¾ cup (90g) grated cheddar

1 avocado, peeled and chopped

nacho filling
1 tablespoon extra virgin olive oil

1 onion, peeled and finely chopped

½ cup (80g) finely grated zucchini (courgette) (about 1 zucchini)

1 cup (140g) grated pumpkin or carrot

1 teaspoon ground cumin (a very nice spice)

1 teaspoon ground coriander (this one too!)

½ teaspoon smoked paprika

1 x 400g can chopped tomatoes

¾ cup (180ml) tomato puree (passata)

1 x 400g can black beans or red kidney beans, rinsed and drained

1–2 teaspoons maple syrup

sea salt and cracked black pepper, to taste

Preheat oven to 180°C (350°F).

Arrange 4 tall ramekins or ovenproof mugs upside-down on a baking tray. Using a pastry brush, brush 4 of the tortillas with oil and place them, oil-side down, over the ramekins. Set aside.

Line a baking tray with non-stick baking paper. Brush the remaining 2 tortillas with oil and place them flat, with the oil-side up, on the prepared tray.

Bake all of the tortillas for 8 minutes or until they're nice and brown. Wearing oven gloves, carefully remove the trays from the oven and allow to cool (the tortillas will turn crispy as they cool).

To make the nacho filling, place the oil in a large non-stick frying pan over medium heat. Add the onion, zucchini and pumpkin and cook, stirring with a wooden spoon, for 8 minutes or until the onion is brown and super soft.

Add the cumin, coriander and paprika and cook, stirring, for 2 minutes (you'll begin to smell the fragrant spices in the air).

Add the tomatoes, puree and beans and cook, stirring, for another 5–6 minutes or until thick. Add the maple, salt and pepper and stir to combine.

Take the tortillas from the ramekins and flip them over to make nacho bowls. Spoon the nacho filling into the bowls and top with the cheese and avocado (plus a squeeze of lime, if you like). Break pieces of your bowl and scoop up the filling. Slice or break the flat tortillas into extra crispy dipping chips. Serves 4

Photography: Chris Court
ANNA HICK
Absolutely delicious and simple to make - not forgetting healthy!! Our 10 year old made this for our family of 6 and the two fussiest eaters devoured it within minutes. Definately agree with other comment that coriander and some chilli would be bonuses to this dish.
Renee Brown
Super quick, easy and delicious. They are perfect for any night of the week and are vegetarian.
Suzie Heaton
Forgot that I was making this for adults who would have liked some heat/chilli of some kind. Looking forward to making it again with chilli and coriander, which I had run out of.
Tags:
basics to brilliance kids
,
cheese
,
coriander
,
cumin
,
easy dinners
,
kids
,
maple syrup
,
nachos
,
paprika
,
school of dh
,
tomatoes
,
tortilla
,
zucchini
,