chocolate peanut slice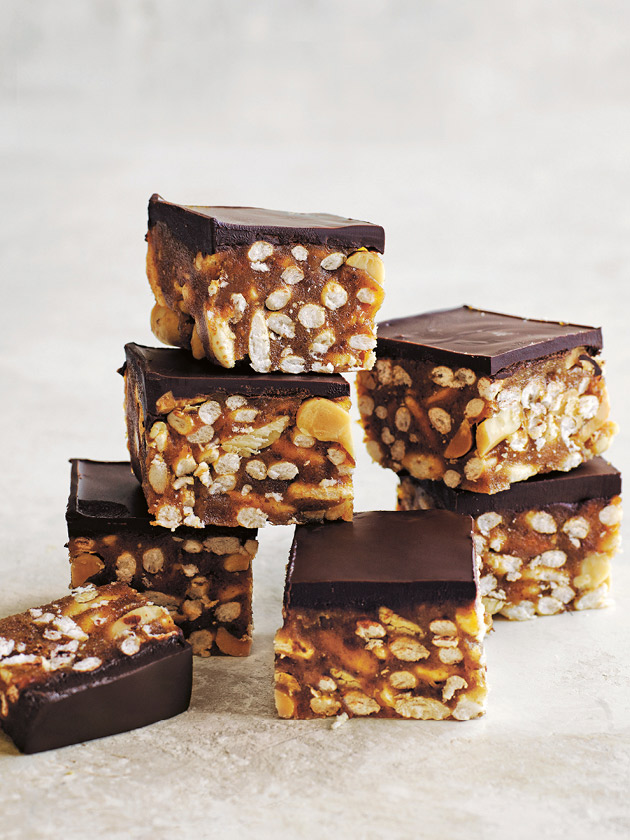 20 soft fresh dates (400g), pitted

⅓ cup (95g) natural smooth peanut butter

2 teaspoons vanilla extract (always yum)

1 cup (15g) puffed brown rice (crisp and puffy)

½ cup (70g) roasted unsalted peanuts, chopped

80g raw cacao chocolate or dark chocolate, melted

Line a 10cm x 20cm loaf tin with non-stick baking paper, leaving 4cm of paper overhanging on the long sides (this will help you later!).

Place the dates, peanut butter and vanilla in a food processor and process for 2–4 minutes or until the mixture turns into a paste. You might need to scrape down the sides of the processor with a spatula between pulses, just to make sure everything combines.

Transfer the date mixture to a big bowl. Add the puffed rice and peanuts. Mix well with a spatula to combine.

Press the mixture into the prepared tin, using the back of a spoon to help you smooth it (rub the spoon with a little oil if it's a bit sticky). Pour the melted chocolate over the slice and spread it with the back of the spoon to coat. Place in the fridge for 20–30 minutes or until set.

Use the paper to help you lift the slice from the tin. Carefully heat a sharp knife under hot water, dry it, then cut the slice into squares (the hot knife cuts the fudgy slice more easily). Place them in the fridge until ready to eat. Makes 20

Photography: Chris Court
Orida Armour Lushmoor
Only having dried dates on hand I used the same as fresh weight, 400g. Put the dried dates in a saucepan with 6 teaspoons of water and bought to boil, then remove from stove asap (stir often to not stick to the base of the pan). I left the lid on to steam for a 5 mins and lid off for another 5 mins to cool. I continued as per the recipe method. Have made it twice now as the first once lasted seconds in our household. Delicious.
donna hay team
Hi Rachael, we have used fresh dates in this recipe. Hope this helps. the dh team
Rachael Edmonds
Good morning DH team. Have you used dried dates with this recipe?
donna hay team
Hi Lara, We have not tested the recipe like this, however, you can replace the peanuts and peanut butter for roasted almonds and almond butter. Happy baking! DH Team
Lana Mcardle
Hi. Can you replace the peanuts & peanut butter with almonds & almond butter?
Tags:
basics to brilliance kids
,
brown rice
,
chocolate
,
dark chocolate
,
dates
,
dessert
,
no-bake dessert
,
peanut
,
slice
,
snack
,
RELATED VIDEO