peanut butter and jam drops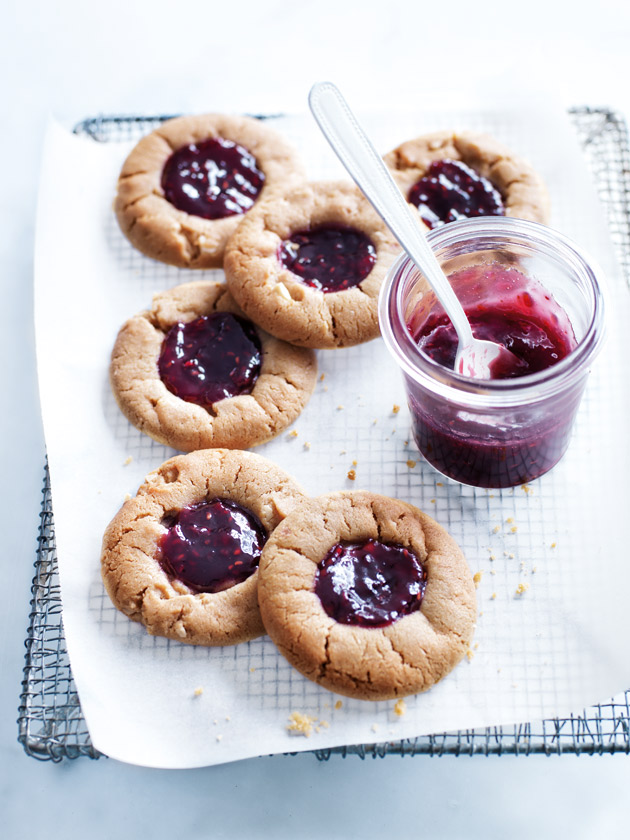 100g unsalted butter, softened

½ cup (140g) smooth peanut butter

1¼ cups (220g) brown sugar

1 teaspoon vanilla extract

1 egg

1¼ cups (190g) plain flour, sifted

¼ teaspoon bicarbonate of soda, sifted

½ cup (70g) roasted salted peanuts, finely chopped

½ cup (160g) raspberry jam, plus extra, to serve

Preheat oven to 160°C. Place the butter, peanut butter and brown sugar in the bowl of an electric mixer and beat for 8–10 minutes until pale. Add the vanilla and egg and beat well to combine. Add the flour, bicarbonate of soda and peanuts and mix to combine. Refrigerate the dough for 30 minutes or until firm. Roll tablespoons of dough into balls and place on baking trays lined with non-stick baking paper. Flatten slightly and press a finger into the centre of each biscuit to make an indent. Fill the indent with jam and bake for 20–25 minutes or until golden. Allow to cool slightly before transferring to wire racks to cool completely. Spoon extra jam onto the cookies to serve. Makes 36.

Tip: You can freeze the cookie dough for baking at a later date. After rolling into balls, freeze the dough between sheets of non-stick baking paper in an airtight container. To bake, defrost, bake and fill cookies as the recipe suggests.
There are no comments for this entry yet.