pirate ship cake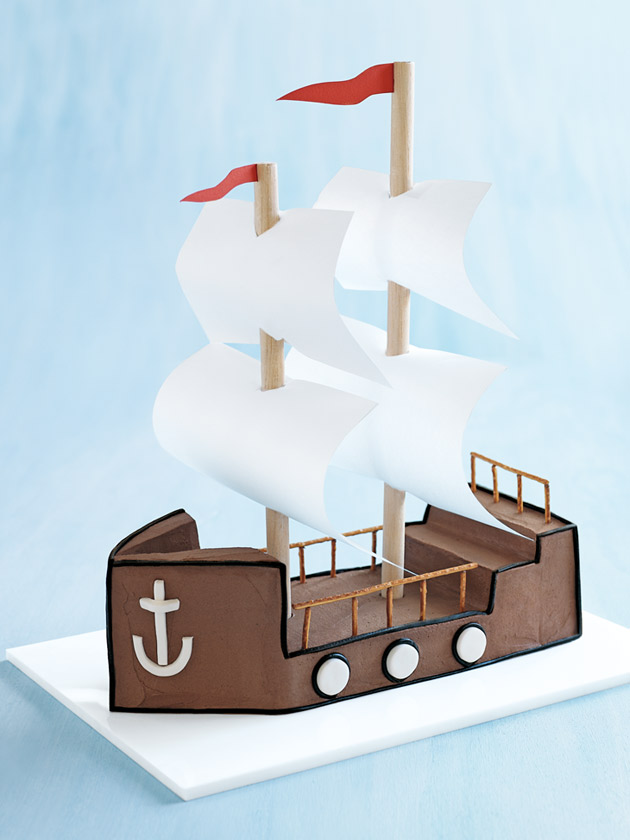 2 x quantities basic chocolate cake (see link to recipe in step 1)

1½ x quantities chocolate butter icing (see link to recipe in step 2)

200g store-bought ready-to-roll fondant icing

licorice straps and 14–16 pretzel sticks, to decorate

Preheat oven to 160°C (325°F). Follow the basic chocolate cake recipe. Divide the cake mixture between 2 x 17cm-square and a 17cm x 22cm lightly greased cake tins lined with non-stick baking paper. Bake the square cakes for 60–65 minutes and the rectangular cake for 1 hour and 10–15 minutes or until cooked when tested with a skewer. Cool in tins for 5 minutes before turning out onto wire racks to cool completely.

Prepare the chocolate butter icing.
To cut secure the rectangular cake to a cake board with some icing. Cut 1 square cake in half to make 2 rectangles and cut the remaining square cake in half to make 2 triangles. Place the 2 triangles on top of each other and secure to the cake board at the end of the rectangular cake to make the bow. Cut the sides from the triangles to make them sit in line with the rectangle, and use 2 of the wedge-shaped pieces to place on the triangle to make the bow.
Place 1 rectangular cake, on its side, behind the large cake. Stack the remaining wedge-shaped pieces at the end of the small rectangle and secure with icing. Place the remaining rectangular cake, on its side, on the stacked wedges to make the stern.
To decorate use a palette knife to spread the cake with icing. Trim the licorice and use to create the outline of the ship.

Knead the ready-to-roll icing on a clean surface until pliable. Roll out between 2 sheets of non-stick baking paper to 3mm-thick. Using a 3cm-round cookie cutter, cut 6 rounds from the icing and place on the sides of the ship as port holes. Outline with licorice.
Cut 4 x 4cm squares from the icing and place at the stern of the ship to make windows. Outline with licorice. Cut thin strips from the icing to make anchors on both sides of the ship's bow. Cut equal lengths from the pretzels and push into the cake to make posts for the railing. Use a little icing to adhere longer pretzels onto the posts to make the rail. Push the sails into the centre of the ship.
Serves 10–12.
There are no comments for this entry yet.