portuguese-style custard tarts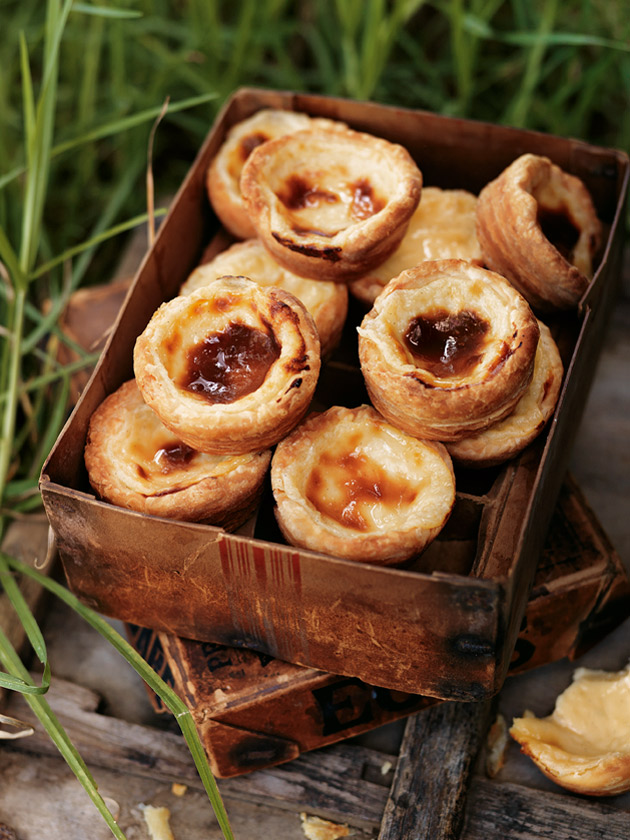 ¾ cup (165g) caster (superfine) sugar

¾ cup (180ml) water

peel of 1 lemon

1 vanilla bean, split and seeds scraped

¼ cup (35g) cornflour (cornstarch)

1½ cups (375ml) milk

3 egg yolks

1 x 375g sheet all-butter puff pastry+, halved

Preheat oven to 200°C (400°F). Place the sugar, water, lemon peel and vanilla in a saucepan over low heat and stir until the sugar is dissolved. Increase heat to high and bring to the boil for 4 minutes or until thickened slightly. Remove the lemon peel and vanilla bean and discard.

Place the cornflour and ½ cup (125ml) milk in a large bowl and mix until smooth. Add the egg yolks and whisk to combine. Add the remaining milk and the sugar syrup and whisk until combined.

Pour the egg mixture into a medium saucepan and place over medium heat. Bring to the boil and cook, whisking continuously, for 6 minutes or until the mixture is thickened. Set aside to cool completely.

Layer the halved pastry sheets on top of each other. Starting at the short end of the pastry, tightly roll into a log. Trim the edges and cut into 12 x 1cm rounds. Lay the pastry rounds flat on a lightly floured surface and roll out to 12 x 10cm rounds.

Carefully press the pastry rounds into a 12-hole, ½ cup-capacity (125ml) lightly greased muffin tin. Divide the custard between the pastry cases and smooth the top. Bake for 25–27 minutes or until the custard is just blistered and golden. Allow to cool in tins for 5 minutes.

Turn out onto a wire rack to cool completely. Makes 12.

+ It's important to use an all-butter puff pastry to achieve the light, crispy pastry of an authentic Portuguese tart.
Julie Vallance
Made these yesterday. Amazing result! I love your recipes Donna, you have been a big inspiration for me x