roasted cauliflower, caper
and tuna spaghetti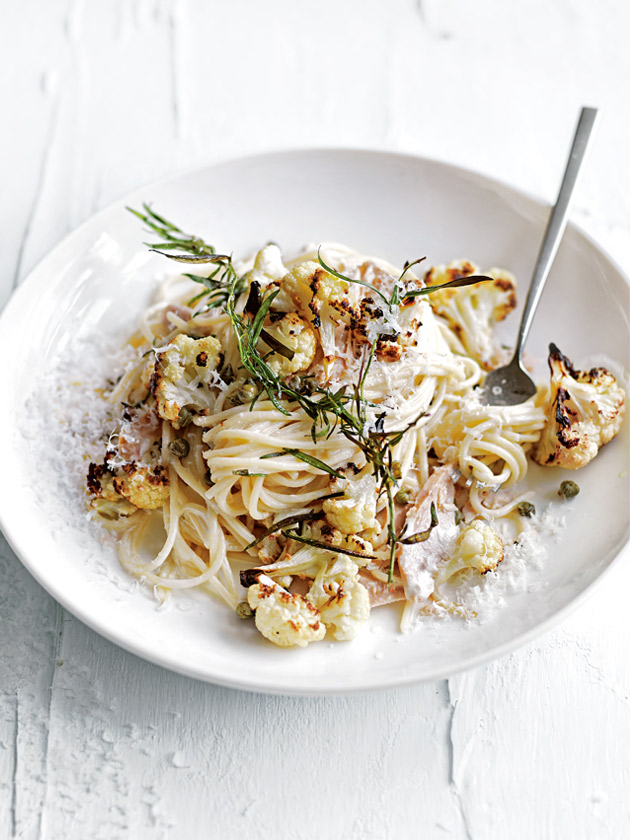 500g cauliflower, cut into small florets

2 tablespoons extra virgin olive oil

sea salt and cracked black pepper

6 sprigs tarragon

400g spaghetti

½ cup (120g) crème fraîche

2 x 125g cans sliced tuna

1 tablespoon lemon juice

1 tablespoon baby capers

finely grated parmesan, to serve

Preheat oven to 240°C (475°F). Place the cauliflower, oil, salt, pepper and tarragon on an oven tray lined with non-stick baking paper. Cook for 15–17 minutes or until golden brown and tender.

While the cauliflower is roasting, cook the pasta in a large saucepan of salted boiling water for 6–8 minutes or until al dente. Drain, reserving ¾ cup (180ml) of the cooking water.

Return the pasta to the saucepan. Add the crème fraîche, tuna, lemon juice and reserved cooking water and stir to combine. Divide between bowls, top with the cauliflower, tarragon and capers, and sprinkle with parmesan to serve. Serves 4.

Rachael Moorby
This is our family favourite pasta recipe using our home grown cauliflowers and lemons.