rosemary and speck mac and cheese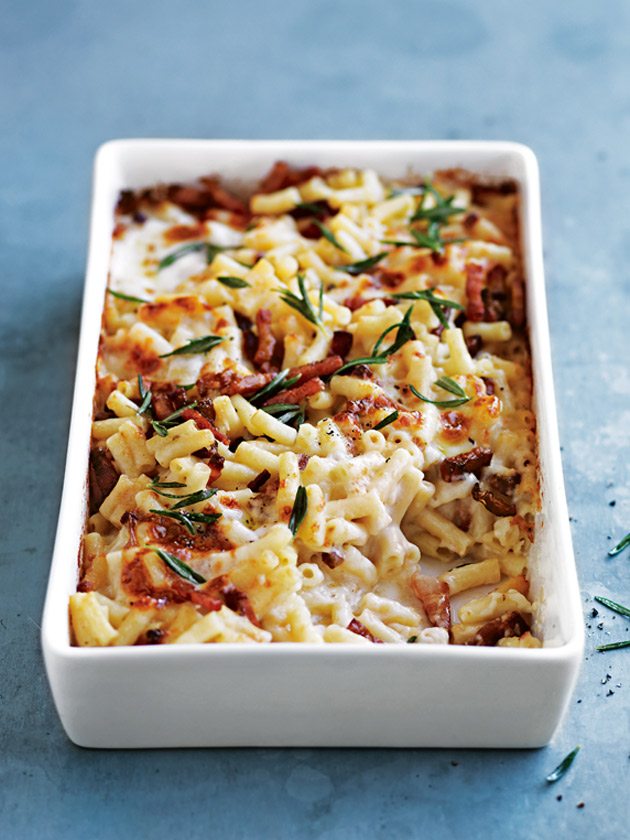 2 cups (280g) macaroni

1 tablespoon extra virgin olive oil

200g speck, rind removed and chopped

1 cup (250ml) milk

1 cup (240g) mascarpone

sea salt and cracked black pepper

1 cup (120g) grated cheddar

1 tablespoon rosemary leaves

Preheat oven to 220°C (425°F). Cook the pasta in a large saucepan of salted boiling water for 6 minutes or until al dente. Drain and set aside.
Heat the oil in a large saucepan over high heat. Add the speck and cook, stirring, for 2–3 minutes or until crisp. Remove and set aside.
Place the pasta, milk, mascarpone, salt, pepper and half the cheddar in the pan and return to high heat. Bring to a simmer, stirring occasionally, to warm through.
Place the mixture in a 1.5-litre-capacity ovenproof dish. Top with the speck, rosemary, pepper and remaining cheddar, and cook for 10 minutes or until golden. Sprinkle with pepper to serve. Serves 4.
Joanna Snowden
This is so easy and tasty. If you can't find speck I just used bacon.
donna hay team
Hi Jenny, by replacing milk with soy milk will change the taste, however if you are use to drinking soy milk, the taste will not seem as different. Enjoy! the dh team
Jenny Truong
Will replacing normal milk with soy milk alter the taste significantly?
Michelle Young
Delicious, easy recipe. A dish the whole family enjoys.
donna hay team
Hi Sally, yes this can be made ahead and reheated in the oven. Happy cooking, the dh team
Sally Noble
Could this be prepared the day before and left in the fridge until needed? Thanks
Nicole Thomas
Adapted this for thermomix and blitzed a whole onion and fried it off with the speck. Delicious!