salted coconut rough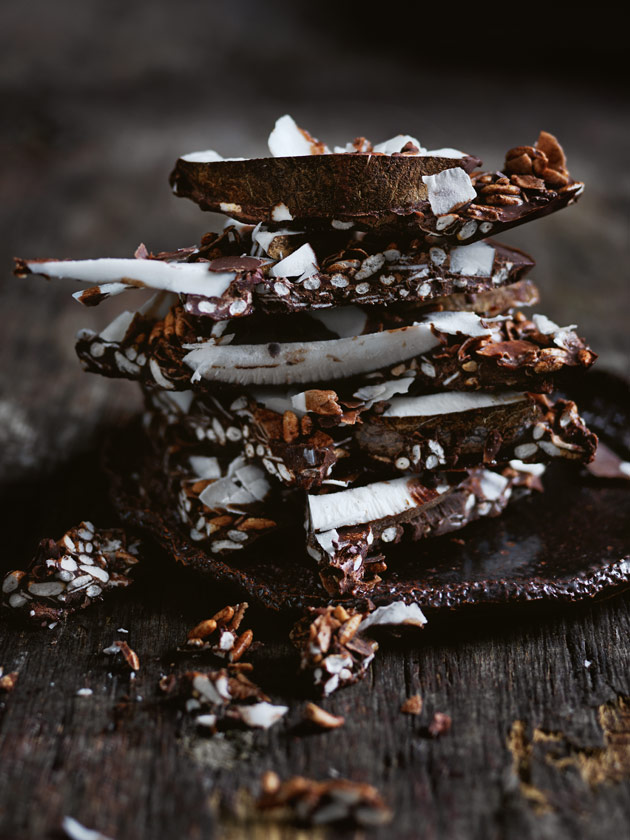 ½ cup (100g) coconut oil, melted

½ cup (50g) cacao powder, sifted

2 tablespoons honey

2 teaspoons vanilla extract

1 fresh coconut, flesh chopped+

½ cup (7.5g) puffed brown rice

1 tablespoon cacao nibs

½ teaspoon sea salt flakes

1 cup (50g) flaked coconut

Place the coconut oil, cacao powder, honey and vanilla in a small saucepan over low heat and stir to combine.

Place the fresh coconut, puffed brown rice, cacao nibs, salt and ½ cup (25g) of the flaked coconut in large bowl. Pour over the honey mixture and mix to combine.
Line a large baking tray with non-stick baking paper and pour the mixture over. Top with the remaining flaked coconut. Freeze for 1 hour or until set. Break into shards to serve. Serves 8–10.

+ Fresh coconuts are available from greengrocers. To crack them open, pierce the eyes with a screwdriver and drain the liquid. Preheat oven to 220°C (425°F). Place on a baking tray and cook for 5 minutes. Remove from the oven and carefully crack open with a hammer. The flesh can be chopped or shaved.
Note: You can keep this refrigerated in an airtight container for up to one week.
There are no comments for this entry yet.