spaceship smash cake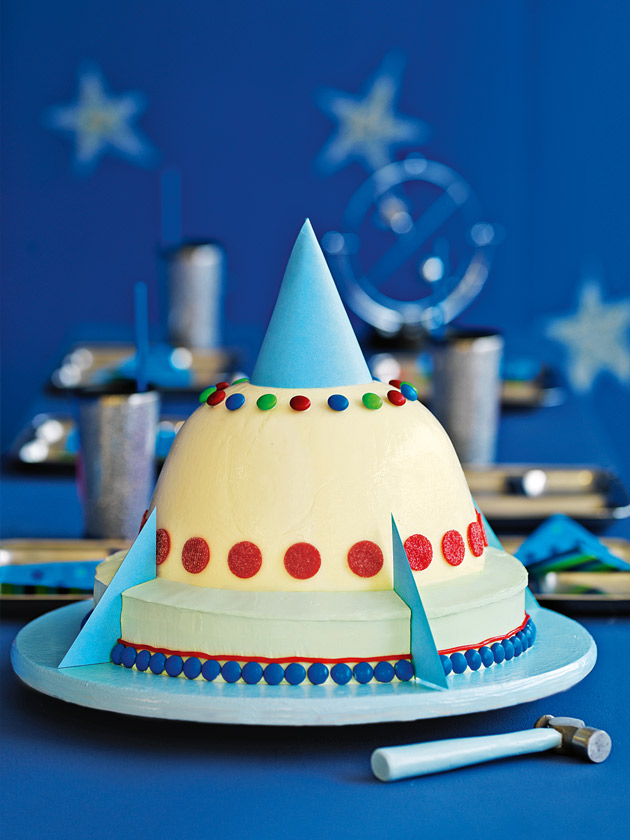 white chocolate dome
vegetable oil, for greasing

500g white chocolate, melted

vanilla cake base
3¹⁄³ cups (500g) plain (all-purpose) flour, sifted

2 teaspoons baking powder

2 cups (440g) caster (superfine) sugar

400g butter, melted

6 eggs

2 cups (500ml) milk

1 teaspoon vanilla essence

assemble and decorate
green food colouring

1 x quantity basic vanilla butter icing (see link to recipe in step 3)

mixed lollies

white chocolate, melted

red, green and blue candy-coated chocolates

red fruit straps, cut into 2½cm rounds

red licorice lace

blue paper cone and paper wings

Lightly grease a 15 cup-capacity (3.75 litre) freezer-safe glass bowl with the oil and place in the freezer for 1 hour. Pour the chocolate into the cold bowl and rotate to coat the bowl evenly. Return to the freezer for 1 hour or until set. Turn bowl upside and cover with a warm tea towel. Slide the chocolate dome from the bowl and set aside in a cool place.

Preheat oven 160ºC (325ºF). Place the flour, baking powder, sugar, butter, eggs, milk and vanilla in the bowl of an electric mixer and beat until smooth. Pour into a lightly greased 30cm cake tin lined with non-stick baking paper and bake for 1 hour 15 minutes or until cooked when tested with a skewer. Turn cake out onto a wire rack to cool.

Add a few drops of green food colouring to the butter icing and mix until well combined. Secure the vanilla cake to a cake board using a little icing. Using a small knife, cut a round from the centre of the cake, leaving a 3½cm border, and discard. Spread cake with the vanilla icing and fill the centre with the mixed lollies. Top cake with the white chocolate dome.
Using the melted chocolate, fasten the candy-coated chocolates and fruit strap rounds onto the dome. Decorate the base with more candy-coated chocolates and the red licorice laces. Top with paper cone and attach wings. Serves 8–10.
There are no comments for this entry yet.