tahini, chickpea and spinach fritters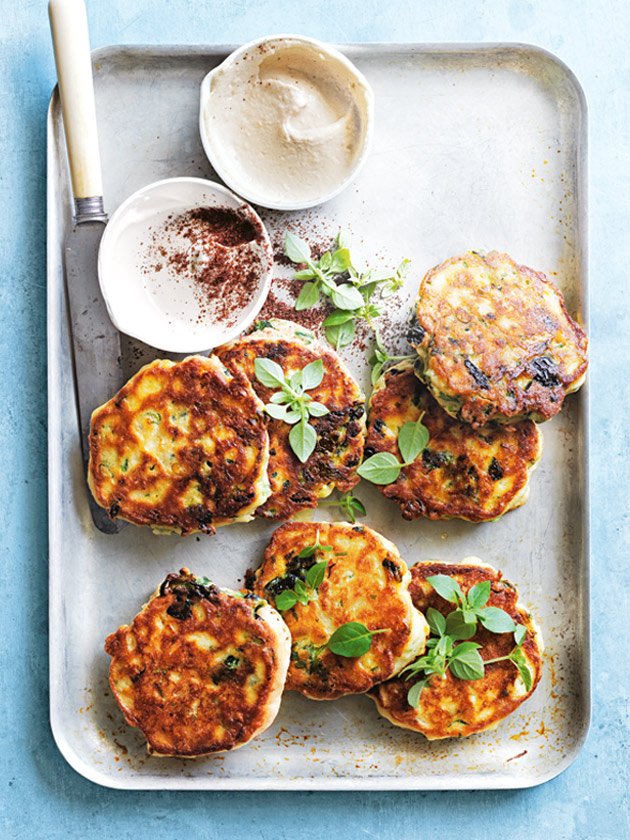 400g can chickpeas (garbanzos), rinsed and drained

⅓ cup (90g) tahini

250g frozen spinach, thawed and excess liquid squeezed out

2 green onions (scallions), thinly sliced

2 cups (500ml) buttermilk

2 cups (300g) self-raising (self-rising) flour

¼ teaspoon baking powder

3 eggs

sea salt and cracked black pepper

2 tablespoons extra virgin olive oil

Greek basil leaves, natural Greek-style (thick) yoghurt, hummus and sumac, to serve

Place the chickpeas, tahini and spinach in a large bowl and crush the chickpeas with a fork. Add the onion, buttermilk, flour, baking powder, eggs, salt and pepper and mix to combine.

Heat half the oil in a large non-stick frying pan over medium heat. Spoon ¼ cup of the mixture into the pan and cook for 3–4 minutes each side or until golden and cooked through. Repeat with remaining oil and batter. Top with basil, and serve with yoghurt, hummus and sumac. Makes 12.

Photography: Chris Court
There are no comments for this entry yet.