vanilla macaron raspberry sandwiches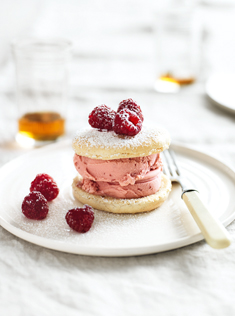 1¼ cup (200g) icing (confectioner's) sugar, plus extra, for dusting
1 cup (120g) almond meal (ground almonds)
3 eggwhites
1 tablespoon caster (superfine) sugar
1 vanilla bean, split and seeds scraped
good-quality raspberry ice-cream and raspberries, to serve

Preheat oven to 150°C (300°F). Sift the icing sugar and almond meal into a bowl and mix to combine. Set aside.
Place the eggwhites in an electric mixer and whisk on high for 30 seconds. Add the caster sugar and vanilla and whisk for 10 minutes or until stiff peaks form. Fold through the almond meal mixture in two batches until smooth.
Place the mixture into a piping bag with a 1½cm plain nozzle and pipe 7cm rounds onto baking trays lined with non-stick baking paper. Allow to stand for 20 minutes. Reduce temperature to 130°C (260°F) and bake macarons for 19–20 minutes or until crisp on the outside and moist in the centre. Allow to cool completely on the trays. Top half the macarons with a scoop of ice-cream and sandwich with remaining macarons. Dust with icing sugar and serve with fresh raspberries. Makes 8.

There are no comments for this entry yet.