vanilla polka dot cake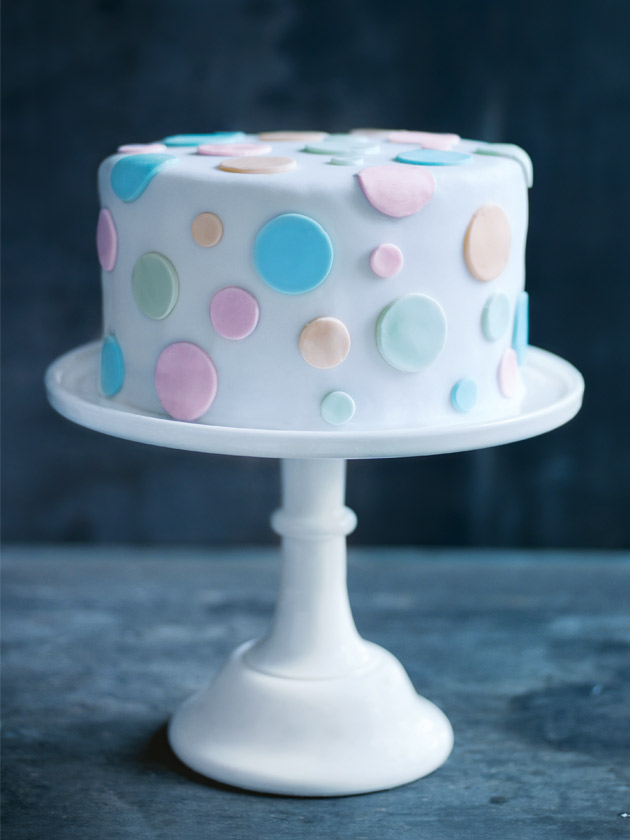 3¾ cup (560g) self-raising flour, sifted

2¼ cups (495g) caster sugar

6 eggs, lightly beaten

2¼ cups (560ml) milk

375g unsalted butter, melted

1 tablespoon vanilla extract

1.5kg store-bought ready-to-roll white fondant icing

pink, green, blue and orange food colouring

vanilla buttercream
375g unsalted butter, chopped and softened

3 cups (480g) icing sugar, sifted

1 teaspoon vanilla extract

Preheat oven to 160°C. Place the flour, sugar, eggs, milk, butter and vanilla in a large bowl and whisk until smooth. Pour into 2 lightly greased 20cm round cake tins lined with non-stick baking paper. Cook for 1 hour 20 minutes or until cooked when tested with a skewer. Allow to cool in the tins for 5 minutes before turning out onto a wire rack to cool completely.

To make the buttercream, place the butter, icing sugar and vanilla in the bowl of an electric mixer and beat for 10 minutes, scraping down the sides of the bowl, until light and fluffy.

To assemble the cake, trim the top of each cake and discard. Halve each cake horizontally to make 4 layers.+ Place the bottom layer on a plate and, using a palette knife, spread with ¾ cup of the buttercream. Repeat layering cake and buttercream, thinly spreading the remaining buttercream over the top and sides of the cake. Refrigerate for 15 minutes or until the buttercream is firm.

Knead 1kg of the fondant on a clean work surface until pliable. Roll out between 2 sheets of non-stick baking paper to 5mm thick. Drape the fondant over the cake, working quickly to smooth out any creases.++ Trim any excess fondant and discard. Transfer the cake to a cake stand.

Divide the remaining fondant into 4 equal portions. Using 2–3 drops of each food colouring, lightly colour each fondant portion, kneading until evenly coloured and pliable. Roll each portion out between 2 sheets of baking paper to 2mm-thick sheets. Using 1½cm, 2cm, 3cm, 3½cm and 4cm round cutters, cut circles from each coloured sheet. Lightly brush each circle with water and press onto the cake. Serves 12–16.

+ Use a large serrated knife to carefully trim the tops of the cakes and halve them evenly.
Tip: To transfer the fondant to the cake, lightly dust with icing sugar and lightly roll up around a rolling pin. Unroll fondant to drape over the cake. Dust off any excess icing sugar with a clean brush.
There are no comments for this entry yet.