vegetable dumplings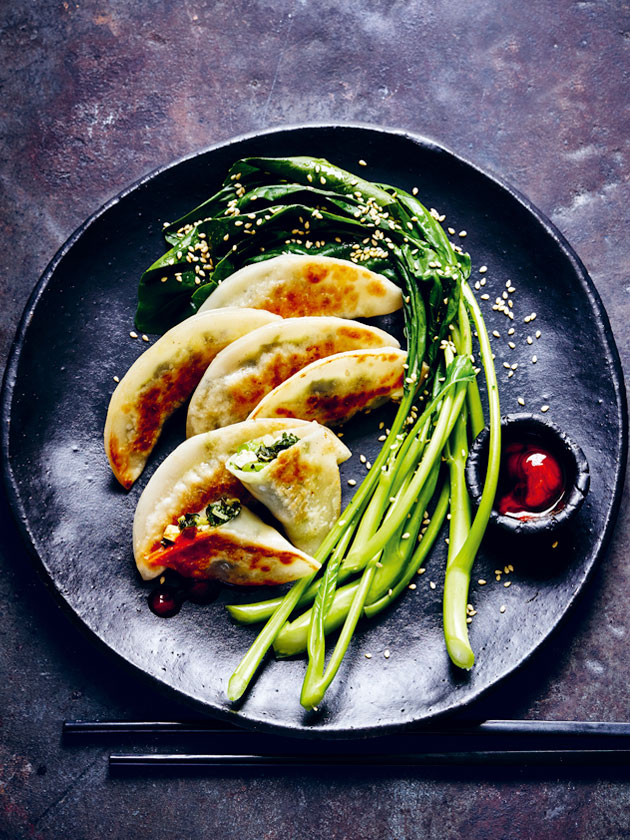 2 teaspoons sesame oil

1 tablespoon finely grated ginger

1 clove garlic, crushed

3 green onions (scallions), finely chopped

1 cup (40g/1½ oz) finely shredded English spinach leaves

1 cup (50g/1¾ oz) finely shredded kale leaves

1 cup (120g/4¼ oz) frozen peas, thawed

¼ cup (50g/1¾ oz) finely chopped water chestnuts

100g (3½ oz) firm silken tofu, finely chopped

2 tablespoons chopped coriander (cilantro) leaves

½ teaspoon sea salt flakes

30 gow gee or wonton wrappers (275g/9¾ oz)

1 tablespoon extra virgin olive oil

⅓ cup (80ml/2¾ fl oz) water

steamed gai lan (Chinese broccoli), to serve

toasted sesame seeds, to serve

chilli sauce and soy sauce or coconut aminos, to serve
Heat a large non-stick frying pan over medium-high heat. Add the sesame oil, ginger, garlic and onion and

cook, stirring, for 1 minute. Add the spinach and kale and cook for 2 minutes or until wilted. Place the peas in a medium bowl and lightly crush with a fork. Add the peas, chestnuts, tofu, coriander and salt to the pan and stir until combined. Remove from the heat.

Arrange the gow gee wrappers on a clean surface.

Place 1 heaped teaspoon of the mixture in the centre of each wrapper. Brush the edges of the wrappers with a little water, fold to enclose and pinch to seal.
Heat 2 teaspoons of the olive oil in a medium non-stick frying pan over medium heat. Add half the dumplings, flat-side down, and cook for 3 minutes. Add 2 tablespoons of the water, cover with a tight-fitting lid and simmer for 3 minutes. Uncover and cook for a further 3–4 minutes or until the water evaporates and the dumplings are golden and crispy. Repeat with the remaining oil, dumplings and water. Divide the dumplings and greens between serving plates and sprinkle with sesame seeds. Serve with chilli and soy sauce. Makes 30
TIPS + TRICKS
+ I like dumplings crispy and golden from the pan, but if you prefer steamed, just place them, in batches, in a lightly oiled bamboo steamer over a pan of simmering water. Steam for 10–12 minutes or until cooked through.
Photography: Con Poulos
There are no comments for this entry yet.