vegie fritters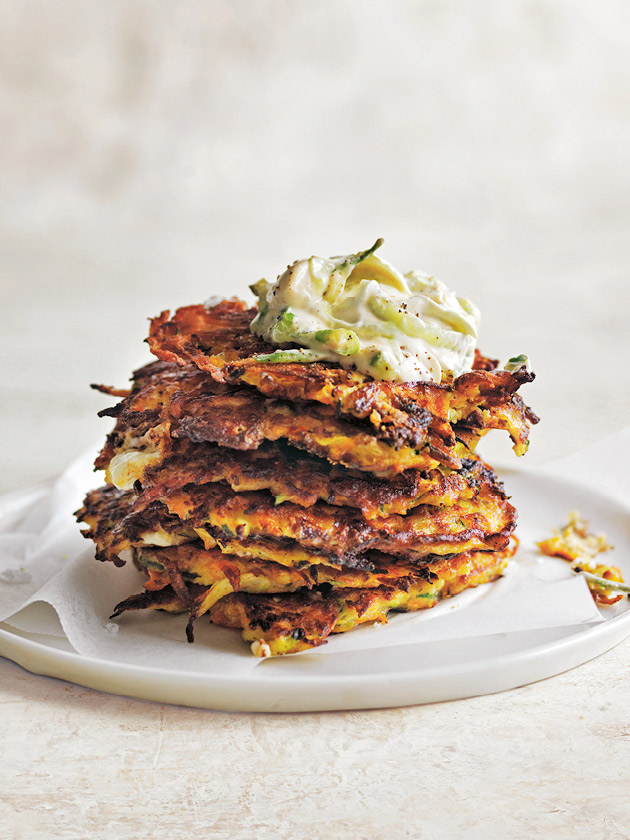 2 cups (320g) grated zucchini (courgette) (about 2 zucchinis)

1½ cups (210g) grated carrot (about 2 carrots)

150g feta, crumbled (gives good flavour)

⅓ cup (25g) finely grated parmesan

1 tablespoon honey

3 eggs

½ cup (70g) wholemeal spelt flour

sea salt and cracked black pepper, to taste

2 tablespoons extra virgin olive oil

Using absorbent kitchen paper or a clean tea towel, squeeze any liquid from the zucchini (to help the fritters hold together).

Place the zucchini, carrot, feta, parmesan and honey in a big bowl. Crack the eggs on top and mix well to combine, using a spatula. With a sifter or sieve, sift the flour, salt and pepper into the bowl and mix until everything is really well combined.

Heat 2 teaspoons of the oil in a large non-stick frying pan over medium heat. In batches of 3 or 4, spoon ¼-cups (60ml) of the mixture into the pan and flatten with a turner or spatula (you can make any size you like, but smallish ones are easier to flip). Cook fritters for 3–4 minutes each side or until they're golden brown and cooked through, using a turner to flip them. Add more oil to the pan as you need it.

Stack and serve the fritters warm from the pan, topped, if you like, with some natural yoghurt or the hummus. Makes 12

Photography: Chris Court
Cate Leggett
These are fantastic, I added chopped broccoli and reduced amount of feta cheese and are so tasty. Great with hummus. Will definitely make these again.
Emma Williams
So good! I made a few alterations; added a golden shallot and replaced the flour with cornflake crumbs then oven baked them. Definitely be making these again - perfect accompaniment for summer time salads - thanks DH team
donna hay team
Hi Emily, we would recommend using a feta not as salty. The DH Team.
Emily Allan
These are far too salty. I had to double the mixture to save the rest of the batch from having to be tossed out. Need to check the salt levels of your feta and cheese before adding the suggested amount.