white and dark chocolate pecan cookies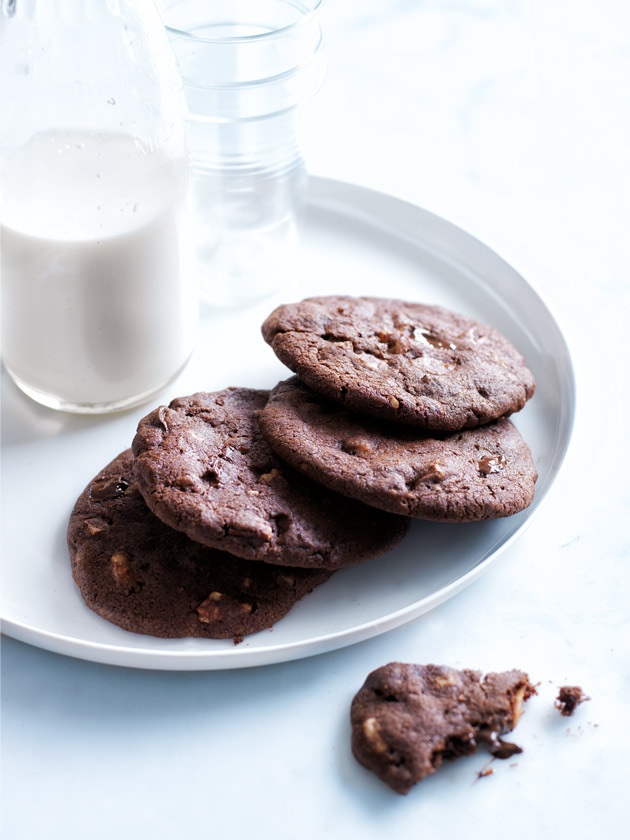 1 cup (175g) brown sugar

¾ cup (165g) white sugar

150g unsalted butter, softened

2 teaspoons vanilla extract

1 egg

1½ cups (225g) plain flour, sifted

½ teaspoon baking powder, sifted

¼ cup (25g) Dutch cocoa, sifted

½ teaspoon table salt

200g dark chocolate, chopped

180g white chocolate, chopped

180g pecans, roughly chopped

Preheat oven to 160°C. Place the brown and white sugars, butter and vanilla in the bowl of an electric mixer and beat for 8–10 minutes or until pale and creamy. Add the egg and beat well to combine. Add the flour, baking powder, cocoa and salt and beat on low speed until a dough forms.
Add the dark and white chocolate and pecans and fold to combine. Roll 2 tablespoons of dough into balls and flatten. Place on lightly greased baking trays lined with non-stick baking paper, allowing room to spread. Bake for 10–12 minutes or until the edges are firm and the centres are still a little soft. Makes 30.

Tip: You can freeze the cookie dough for baking at a later date. After rolling into balls, freeze the dough between sheets of non-stick baking paper in an airtight container. To bake, defrost, bake and fill cookies as the recipe suggests.
There are no comments for this entry yet.