seed and nut bread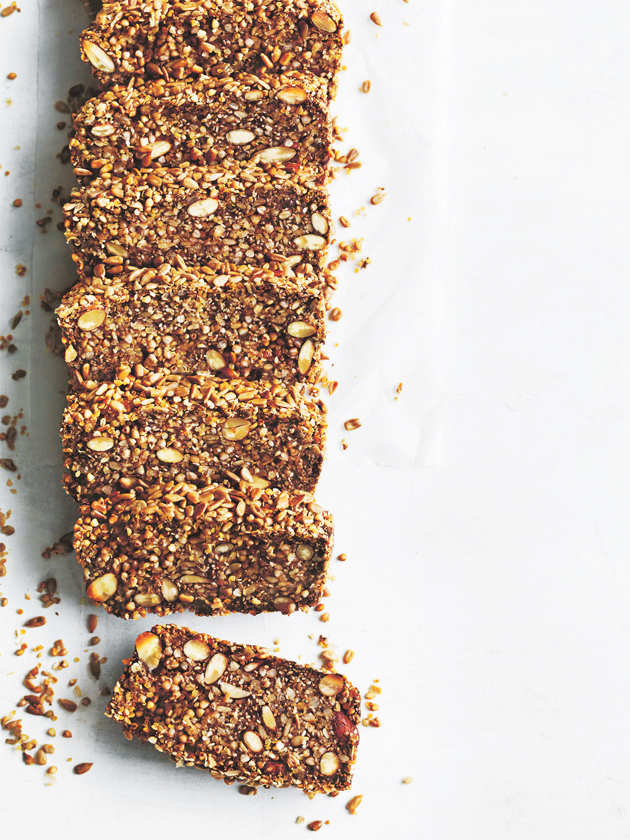 1 cup (160g) almonds

¾ cup (150g) buckwheat

¼ cup (50g) white chia seeds

½ cup (40g) psyllium husks

½ cup (80g) sesame seeds

¾ cup (120g) sunflower seeds, plus extra for topping

1 teaspoon sea salt flakes

¼ cup (60ml) melted coconut oil

2½ cups (625ml) water

½ cup (100g) white quinoa

1 cup (250ml) water, extra

Place the almonds, buckwheat, chia, psyllium, sesame seeds, sunflower seeds, salt, coconut oil and water in a large bowl and mix to combine. Set aside for 6 hours or overnight to soak.

While the mixture is soaking, make the quinoa. Place the quinoa and extra water in a medium saucepan over high heat and bring to the boil. Reduce heat to low, cover with a lid and cook for 15 minutes or until the quinoa is cooked and water has been absorbed. Set aside to cool completely.

Preheat oven to 160°C (325°F). Add the quinoa to the nut and seed mixture and mix well to combine, breaking up any lumps. Press firmly into a lightly greased 11cm x 21cm loaf tin lined with non-stick baking paper. Top with the extra sunflower seeds, gently pressing to secure. Cook for 1 hour 30 minutes.

Carefully remove the loaf from the tin, discard the baking paper and place on a wire rack over an oven tray. Return to the oven and cook for 1 hour 15 minutes or until golden and cooked through. Set aside to cool completely before slicing. Serves 8–10.

Tip: You can refrigerate the seeded bread for up to 7 days.
There are no comments for this entry yet.