ginger and honey jumbles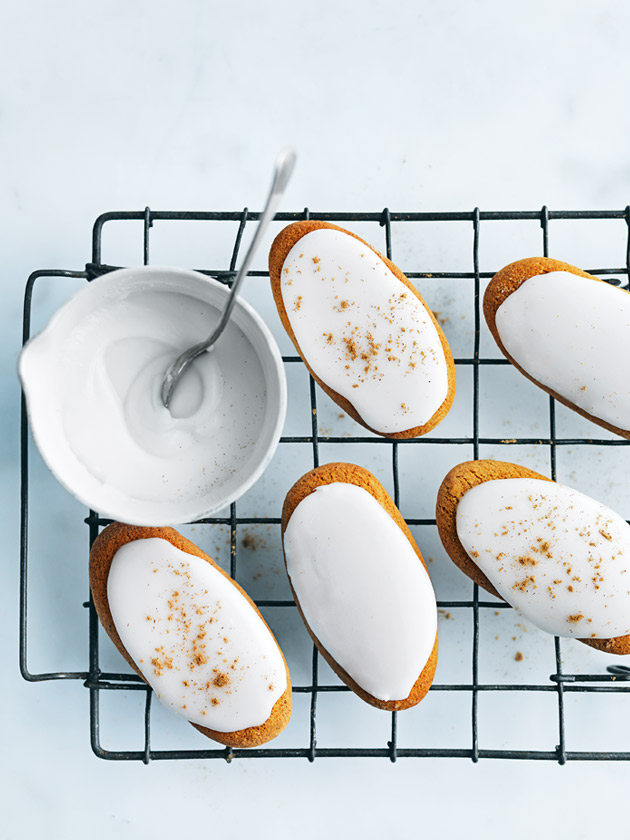 40g unsalted butter, chopped

½ cup (175g) honey

1 cup (150g) plain flour, sifted

½ teaspoon bicarbonate of soda

1 teaspoon ground ginger

1 teaspoon ground cinnamon

1 tablespoon finely grated orange rind

1 tablespoon milk

icing
2½ cups (400g) icing sugar, sifted

1 teaspoon honey

¼ cup (60ml) boiling water

1 teaspoon ground ginger

Preheat oven to 160°C. Place the butter and honey in a small saucepan over medium heat. Bring to a simmer, reduce heat to low and cook for 2 minutes. Allow to cool slightly.

Place the flour, bicarbonate of soda, ginger, cinnamon, orange rind, milk and butter mixture in a bowl and mix well to combine. Refrigerate for 20–30 minutes.

Roll 2 teaspoons of dough into 8cm logs and place on large baking trays lined with non-stick baking paper, allowing room to spread. Cook for 10–12 minutes or until light golden. Allow to cool slightly before transferring to wire racks to cool completely.

To make the icing, place the icing sugar, honey and water in a bowl and whisk until smooth. Spread biscuits with icing, sprinkle with ginger and set aside for 10–15 minutes or until icing has set. Makes 16.

Tip: Use lightly floured hands to roll out the dough, this will help it from sticking to your fingers.
donna hay team
Hi Nadia, as we haven't tested this recipe with gluten free flour it is hard to say - but if you want to try making them gluten free look for a brand that has a mixture of different flour substitutes to help when baking. The cookies should be fine to travel in an airtight container but will be better without icing as the icing may start to melt in transit. The DH team
Nadia Boyce
Can I sub flour for gluten free plain and then I would like to post them to Perth..this should take a week. Will they keep till then cause once package opened they will disappear..my daughters favourite growing up
donna hay team
Hi Pru, you can keep them for up to 3 days in an airtight containter. The longer you leave them, the stickier and softer the jumbles will get. The DH team
Pru Clark
What's the shelf life of these yummy favourites? Should I store in fridge or a container? Many thanks