golden turkey breast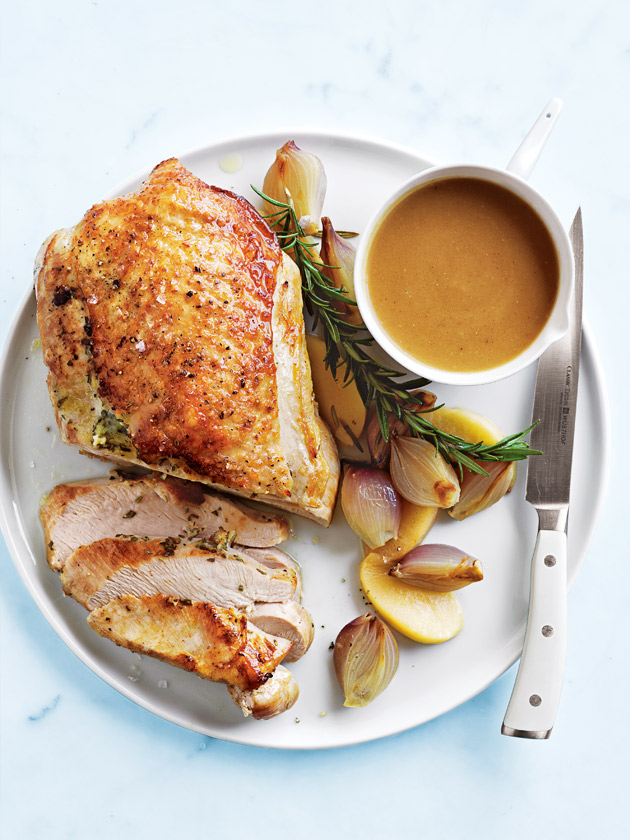 3 cloves garlic, crushed

1 tablespoon finely chopped rosemary

200g unsalted butter, chopped and softened

1 x 1.5kg turkey breast fillet, skin on

sea salt and cracked black pepper

1 tablespoon extra virgin olive oil

4 eschalots, peeled and halved

1 green apple, peeled and sliced into wedges

1 sprig rosemary

1 cinnamon quill

2 cups (500ml) chicken stock

1 cup (250ml) apple juice

¼ cup (35g) plain flour

Place the garlic, rosemary and 100g of the butter in a small bowl and mix to combine. Using your fingertips, carefully loosen the skin from the flesh on the turkey breast.

Push the butter mixture under the skin. Sprinkle the turkey with salt and pepper.

Heat the oil and 50g of the butter in a large heavy-based shallow saucepan over medium heat. Add the turkey, skin-side down, with the eschalots, apple, rosemary and cinnamon. Cook for 5 minutes or until the turkey is golden brown. Turn and cook for a further 5 minutes or until golden. Add the stock and juice and bring to a simmer. Reduce the heat to low and cook, covered, for 30 minutes or until cooked through. Remove the turkey, apple, eschalots and rosemary from the poaching liquid and place in a bowl. Cover with aluminium foil and set aside to keep warm.

Strain the turkey stock into a jug, discarding the solids. Melt the remaining butter in a medium saucepan over high heat until bubbling. Add the flour and cook, stirring, for 2–3 minutes or until dark brown. Slowly pour in the turkey stock, stirring, until smooth. Cook, stirring constantly, for a further 2 minutes or until thickened. Slice the turkey and serve with the gravy. Serves 6–8.

There are no comments for this entry yet.