chicken and leek pie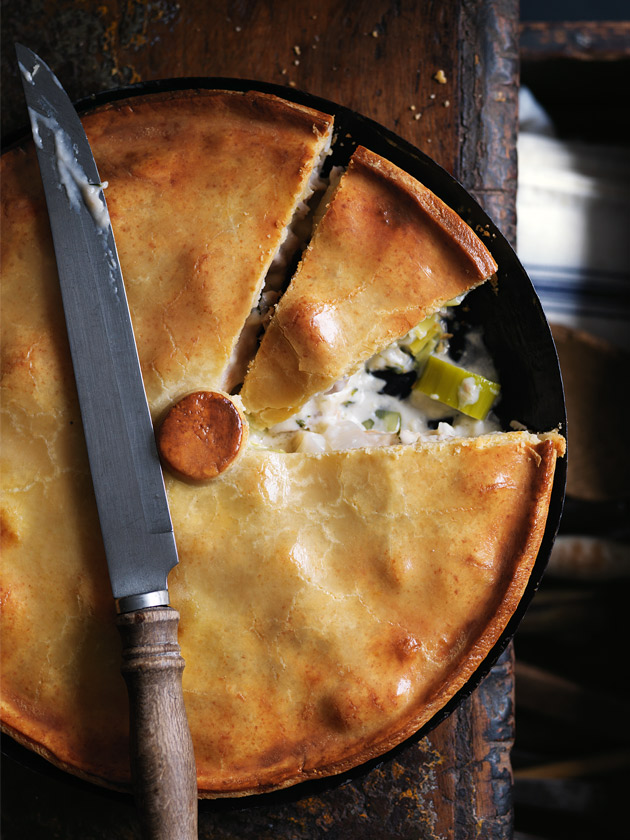 1 tablespoon olive oil

6 x 150g chicken thigh fillets, chopped

40g butter

2 small leeks, sliced

2 cloves garlic, crushed

2 tablespoons thyme leaves

¼ cup (35g) plain (all-purpose) flour

2 cups (500ml) milk

sea salt and cracked black pepper

2 x quantities shortcrust parmesan pastry (see below)

1 x quantity eggwash (see below)

shortcrust parmesan pastry
2 cups (300g) plain (all-purpose) flour

1 cup (80g) finely grated parmesan

150g cold butter, chopped

1 teaspoon sea salt flakes

1 egg
1 tablespoon cold milk

eggwash
1 egg, lightly beaten

2 tablespoons single (pouring) cream

To make the eggwash, place the egg and cream in a bowl and mix to combine.

To make the shortcrust parmesan pastry, place the flour, cheese, butter and salt in the bowl of a food processor and process for 1–2 minutes or until the mixture resembles fine breadcrumbs. Add the egg and milk and process for 2 minutes or until a smooth dough forms. Wrap in plastic wrap and refrigerate for 30 minutes.

Preheat oven to 180ºC (350ºF). Heat the oil in a large non-stick frying pan over medium heat. Add the chicken and cook, in batches, for 4–5 minutes or until golden. Remove from pan, set aside and keep warm.

Add the butter, leeks, garlic and thyme to the pan and cook for 7–8 minutes or until softened. Add the flour and cook for 2 minutes. Add the milk, salt and pepper and cook for a further 3 minutes or until thickened. Return the chicken to the sauce and refrigerate until cooled completely.

Roll half the pastry out between 2 sheets of non-stick baking paper to 3mm-thick. Line a 31cm-round lightly greased pie tin with the pastry. Fill with the chicken mixture. Roll the remaining pastry out between 2 sheets of non-stick baking paper to 3mm-thick. Place on top of the pie and trim the excess pastry. Brush with the eggwash and bake for 35–40 minutes or until the pastry is golden. Serves 4.

Angel Baraty
I love this pie, we make it almost monthly! Family pleaser, the amount of Parmesan in the recipe is slightly overpowering for us, which I love Parmesan but we half the amount of Parmesan! In the middle of making it for dinner tonight such comforting aromas floating about my kitchen
Josie Arutjunow
I made this recipe and it was delicious. i used store brought pastry and used two sheets for extra crunch, turned out perfect. Definitely a meal on rotation at my house. thank you.
Laura Sayer
This chicken pie is a family favourite. I have not always had the best outcomes with pastry but this was a winner. I used chicken mince and added sweetcorn. Delicious. Thanks DH team. X
donna hay team
Hi Rochelle, we haven't tested this so we can't guarantee it will turn out the same. Let us know how you go! The DH Team.
Rochelle Clark
This was a delicious pie, although I found the parmesan flavour to be very strong. Is it possible to reduce the amount of parmesan without ruining the pastry? Alternatively, is there a different pastry that could be used?
Thanks!