lamington ice-cream cake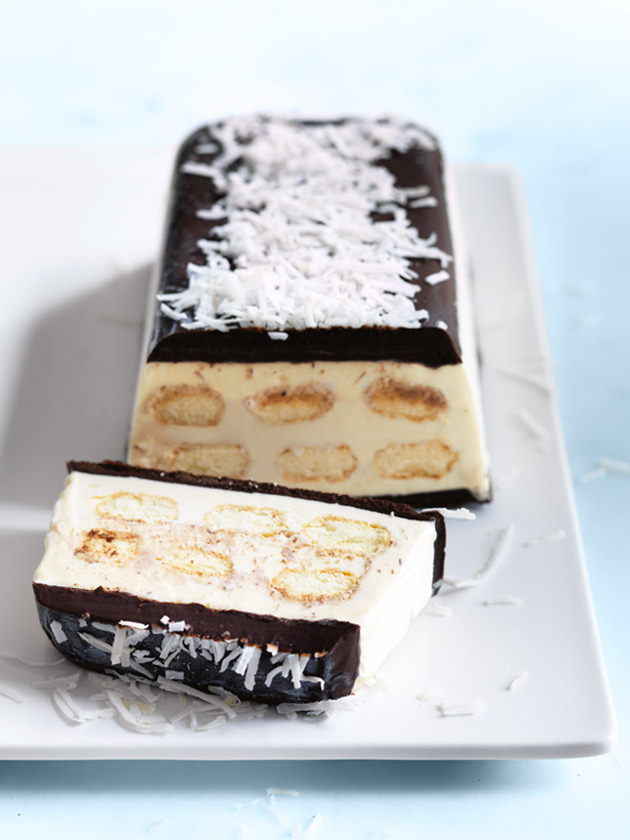 ⅔ cup (160ml) single (pouring) cream

400g dark chocolate, finely chopped

2 litres store-bought vanilla
ice-cream, chopped and softened

12 store-bought sponge finger biscuits

⅓ cup (80ml) coconut milk

½ cup (40g) shredded coconut

Line a lightly greased 20cm x 10cm x 7cm loaf tin with non-stick baking paper and set aside.

Place the cream in a small saucepan over medium heat and bring to just below the boil. Add the chocolate, remove from the heat and set aside, without stirring, for 5 minutes or until the chocolate is melted. Mix until smooth. Pour half the chocolate mixture into the tin and freeze for 10 minutes or until set.

Place the ice-cream in the bowl of an electric mixer and beat on low speed for 2 minutes or until soft. Working quickly, spoon ⅓ of the ice-cream over the chocolate and smooth.

Dip 6 sponge fingers into the coconut milk and press into the ice-cream. Top with half of the remaining ice-cream and spread evenly with a palette knife.

Dip the remaining biscuits into the coconut milk and place on top of the ice-cream. Top with the remaining ice-cream and spread evenly. Top with the remaining chocolate mixture and tap gently to smooth.

Freeze for 4–6 hours or until ready to serve. Invert the tin and remove the baking paper. Top with the shredded coconut and slice to serve. Serves 8–10.

Jane Spinaze
I used this idea for a speedy 12yo boys bday cake but I added shredded organic coconut and crushed Loacker crepe noisettes to the icecream, then I dolloped some raspberry coolie amidst the sponge biscuits just to jazz it up a little. Too much mix for the loaf tin size recommended so I believe a larger tin would be better as I couldn't fit all the ganache on the last layer..started to overflow! But deliciously nice and enjoyed by all!