lemon and macadamia slice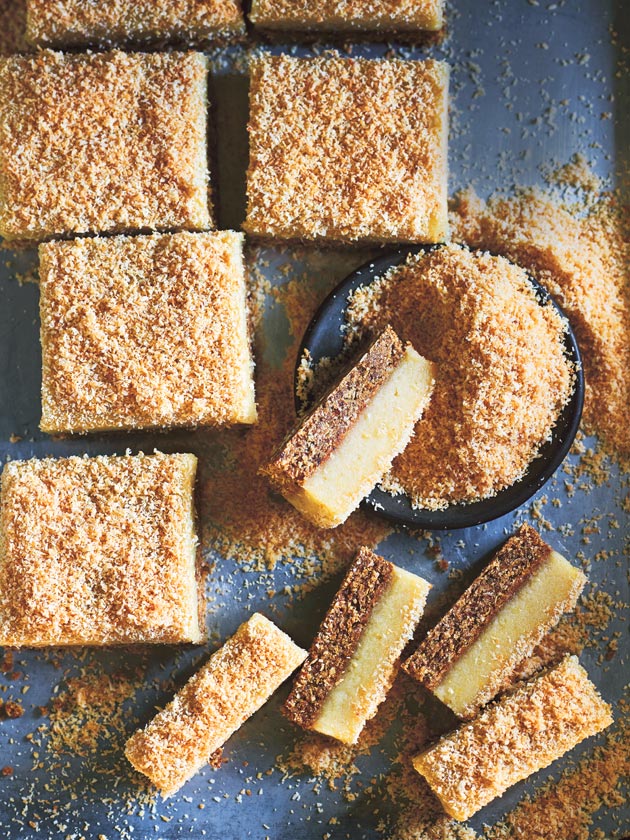 1 cup (150g) cashews

2 cups (280g) macadamias

2 tablespoons finely grated lemon zest

¼ cup (60ml) lemon juice

¼ cup (60ml) melted coconut oil

⅓ cup (115g) honey

¼ cup (20g) desiccated coconut, toasted

coconut base
1 cup (160g) wholemeal plain flour

1 cup (80g) desiccated coconut

1 cup (120g) almond meal (ground almonds)

½ cup (125ml) melted coconut oil

Preheat oven to 160°C (325°F). Place the cashews in a large bowl and cover with boiling water. Set aside for 20 minutes to soak.

To make the coconut base, place the flour, desiccated coconut, almond meal and coconut oil in a large bowl and stir well to combine. Press into a lightly greased 20cm x 30cm slice tin lined with non-stick baking paper, smoothing the top with a spoon. Cook for 25 minutes or until golden. Set aside to cool slightly.

Drain the cashews and place in a food processor. Add the macadamias, lemon zest, lemon juice, coconut oil and honey. Process for 4 minutes, scraping down the sides occasionally or until smooth and creamy. Using a palette knife, spread the cashew mixture over the cooled base. Top with the desiccated coconut. Refrigerate for 1 hour to set. Slice and serve. Makes 20.
Note: You can refrigerate this slice in an airtight container for up to 10 days.
donna hay team
Hi Breanna, you could try using almond meal instead. Thanks – DH Team!
Breanna Egiziano
Hi, just wondering if the cashews could be replaced by anything at all, as I have an allergy to them?
Tags:
almond meal
,
baking
,
cashews
,
coconut oil
,
dessert
,
fresh and light
,
honey
,
lemon
,
macadamia
,
slice
,
snack
,