lemon tart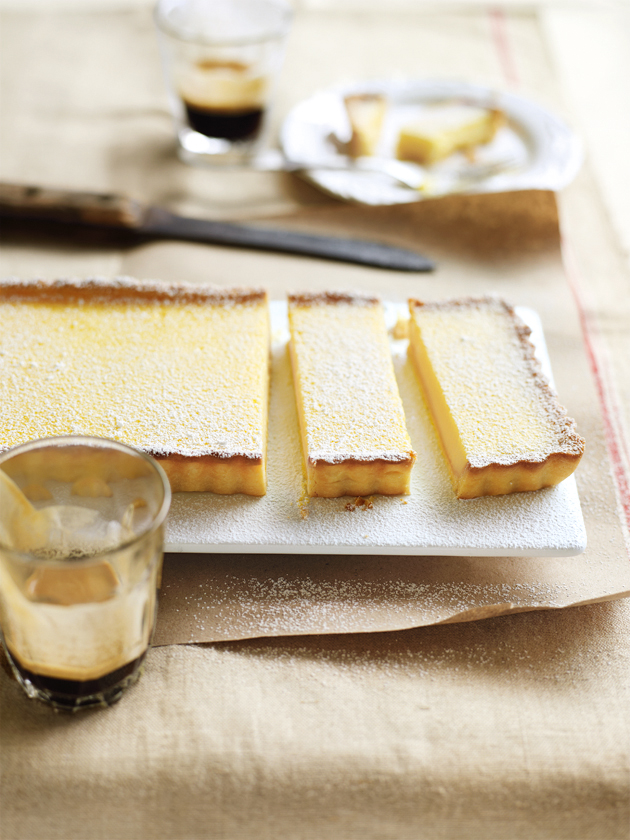 1½ cups (225g) plain (all-purpose) flour

125g chilled butter, cut into cubes

½ cup (80g) icing (confectioner's) sugar, plus extra, for dusting

3 egg yolks

1 tablespoon iced water

lemon filling
1 cup (250ml) single (pouring) cream

2 eggs
3 egg yolks, extra

½ cup (110g) caster (superfine) sugar

½ cup (125ml) lemon juice

Place the flour, butter and icing sugar in the bowl of a food processor and process until mixture resembles fine breadcrumbs. While the motor is running, add the egg yolks and process to combine. Add the iced water and process until the dough just comes together. Turn dough out onto a lightly floured surface and gently bring together to form a ball. Flatten into a disk, wrap in plastic wrap and refrigerate for 1 hour.
Preheat oven to 180ºC (350ºF). Roll the pastry out between 2 sheets of non-stick baking paper to 3mm-thick. Line an 11cm x 34cm lightly greased loose-bottomed tart tin with the pastry, trim the edges and prick the base with a fork. Refrigerate for 30 minutes.
Line the pastry case with non-stick baking paper and fill with baking weights. Bake for 15 minutes, remove the paper and weights and bake for a further 10 minutes or until the pastry is light golden. Reduce temperature to 140ºC (275ºF).
To make the lemon filling, place the cream, eggs, extra yolks, sugar and lemon juice in a bowl and whisk to combine. Strain through a sieve and pour into the tart shell. Bake for 30–35 minutes or until just set. Allow to cool and refrigerate until completely set. Dust with icing sugar to serve. Serves 4–6.

Lucy Kalstrom
To stop the pastry from shrinking, you need to pinch it up so it overhangs the edges by around 1 cm. That leaves room for shrinkage
Evie Fenesy
Best lemon tart ever!!!!!!
Rebekah Vosper
This tart is so yum! My husband ate half of it in one day - must be good. Only one thing - how do I get my tart shell to stop shrinking when it cooks as the filling doesn't all fit in, I follow all the chilling times as well so I don't know how to stop that.