little custard doughnuts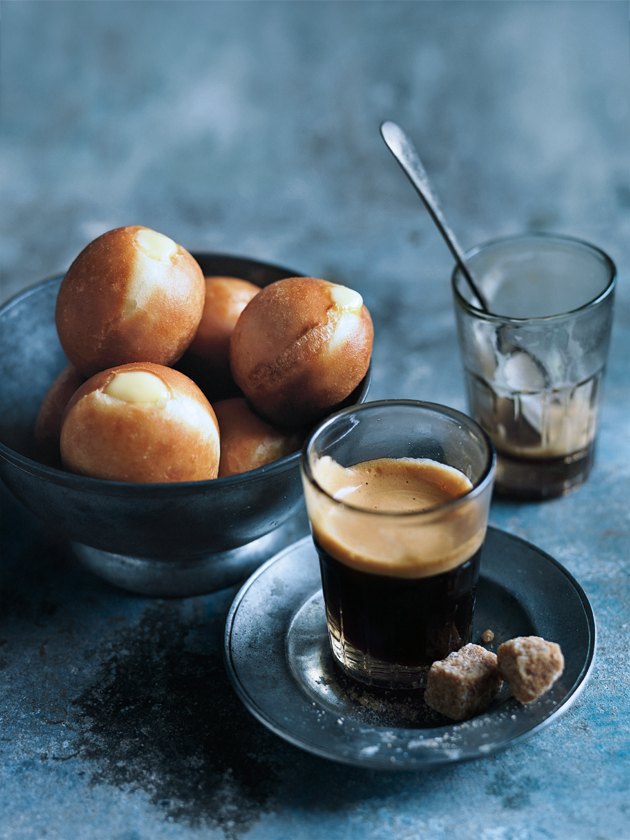 2 teaspoons active dry yeast

1½ tablespoons lukewarm water

½ cup (125ml) lukewarm milk

2 tablespoons caster (superfine) sugar

50g butter, melted

2¼ cups (335g) plain (all-purpose) flour

2 eggs

vegetable oil, for deep-frying

1 cup (250ml) thick store-bought custard

Place the yeast, water, milk and 1 tablespoon of sugar in a large bowl and set aside in a warm place for 10 minutes or until bubbles appear on the surface. Add the butter, flour, eggs and remaining sugar to the yeast mixture and use a butter knife to mix until a sticky dough forms. Turn out onto a lightly floured surface and knead until smooth. Place the dough in a lightly oiled bowl, cover with a clean, damp cloth and set aside in a warm place for 45 minutes or until doubled in size.
Knead the dough on a lightly floured surface for 5 minutes or until smooth and elastic. Roll 1 tablespoonful of dough into balls at a time and place on a baking tray lined with non-stick baking paper and set aside for 30 minutes or until risen.
Place the oil and a sugar thermometer in a large, deep saucepan over medium heat until temperature reaches 180°C (350°F). Cook the doughnuts, in batches, for 1 minute each side or until golden. Drain on absorbent paper.
Place the custard in a piping bag. Carefully pierce doughnuts with a knife and fill with the custard. Serve immediately. Makes 30.

donna hay team
Hi Helen, yes there was, unfortunately a misprint in the book that has been corrected on the website. The recipe should call for two tablespoons of sugar. Happy baking!
Helen Lowe
Hi, in the book "the new classics", this same recipe calls for 2 cups of caster sugar, and here it calls for 2 tablespoons. Can you tell me which one is the correct one? Thanks.
donna hay team
Hi Wrena, because it is a butter enriched dough it will not be as stretchy as a bread dough. As long as it doubles in size and all the yeast is dissolved your dough will be fine. The DH team
Wrena Holliday
My dough rose but didn't turn out very stretchy.. Does that mean i didn't knead it long enough?