celeriac, watercress, pea and ham hock soup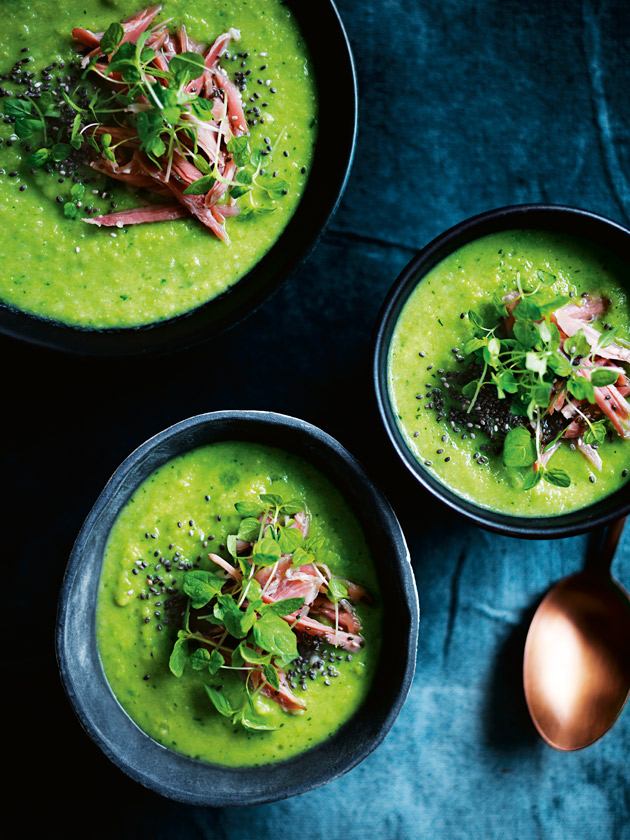 1 tablespoon extra virgin olive oil

1 onion, chopped

2 cloves garlic, sliced

1kg celeriac, peeled and chopped

6 cups (900g) frozen peas

2 cups (30g) watercress sprigs

½ cup (140g) natural Greek-style (thick) yoghurt

micro (baby) mint leaves and black chia seeds, to serve

ham hock stock

1.5kg ham hock

1 onion, peeled and quartered

3 bay leaves

8 sprigs thyme

1 bulb garlic, halved

6 litres cold water

To make the stock, place the hock, onion, bay leaves, thyme, garlic and water in a large saucepan over high heat and bring to the boil (ensure there is enough water to cover the hock).

Reduce heat to medium and cook for 1 hour–1 hour 15 minutes or until the ham is tender. Remove the hock and set aside to cool slightly.

Using 2 forks, shred the meat and set aside, discarding bone and skin. Strain the stock and set aside.

Heat the oil in a large saucepan over high heat. Add the onion and garlic and cook for 3–4 minutes or until softened. Add the celeriac and 1.5 litres of the reserved stock+ and bring to the boil. Cook for 12–15 minutes or until the celeriac is tender.
Add the peas and cook for 1 minute or until soft. Remove from the heat and add the watercress and yoghurt. Using a hand-held stick blender, blend until smooth.

Divide the soup between bowls and top with the reserved shredded ham and mint leaves. Sprinkle with chia seeds to serve. Serves 4–6.
+ Any remaining stock can be kept frozen in an airtight container for up to six months.
There are no comments for this entry yet.
RELATED VIDEO