cheat's spicy beef, zucchini and havarti gozleme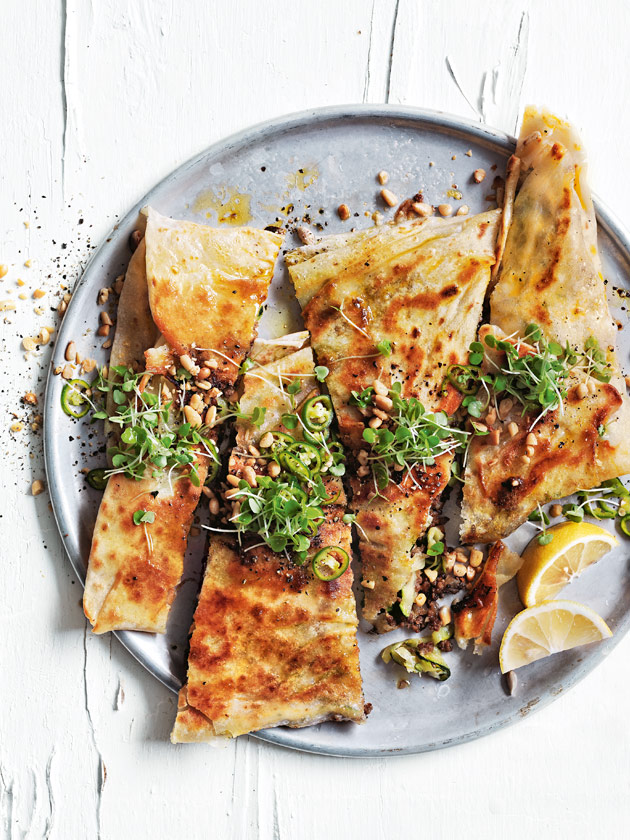 1 tablespoon extra virgin olive oil

800g beef mince

1 onion, finely chopped

2 cloves garlic, crushed

2 teaspoons ras el hanout+

½ teaspoon dried chilli flakes

sea salt and cracked black pepper

4 large flatbreads+

¼ cup (40g) toasted pine nuts, chopped,
plus extra to serve

2 zucchini (courgettes), grated

2 cups (200g) grated havarti cheese

1 long green chilli, thinly sliced

micro (baby) basil leaves and lemon wedges, to serve

Heat the oil in a large non-stick frying pan over high heat. Add the beef, onion, garlic, ras el hanout, dried chilli, salt and pepper and cook for 6 minutes, breaking up any lumps with a wooden spoon.

Divide the beef between each flatbread, placing in the middle and leaving a 10cm border. Sprinkle with the pine nuts, zucchini and cheese and fold over the edges to enclose.

Wipe out the pan with paper towel and place over medium heat. Cook each gozleme, one at a time, for 3 minutes each side or until golden and the cheese has melted.

Cut into pieces and sprinkle with the fresh chilli, extra pine nuts, pepper and basil. Serve with lemon wedges. Serves 4.

+ You can use any flatbread – we like to use store-bought roti.
​+ ras el hanout is a North African spice mix available from most supermarkets.
There are no comments for this entry yet.