cheesy chat jacket potatoes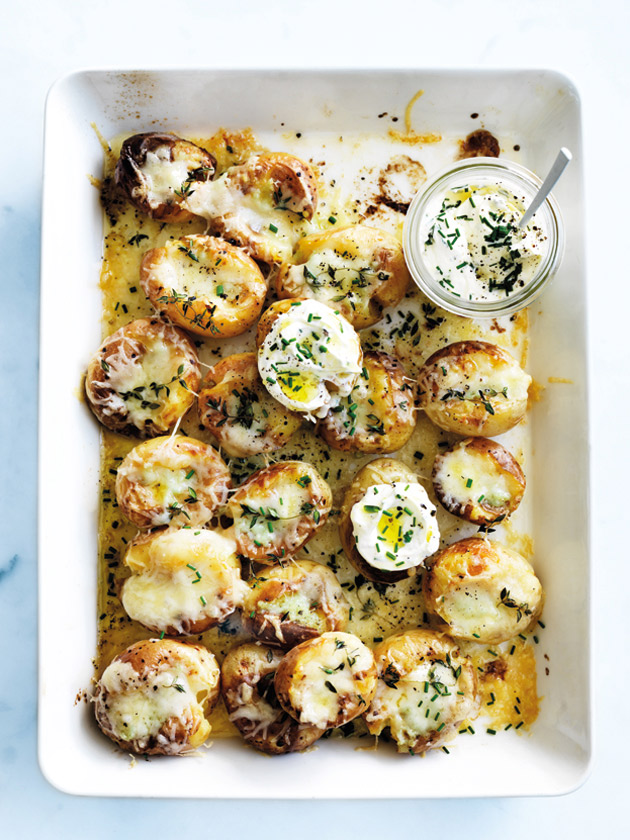 1kg chat (baby) potatoes

1 tablespoon sea salt flakes

50g unsalted butter, melted

2 cloves garlic, crushed

1 tablespoon thyme sprigs

¾ cup (90g) finely grated gruyere cheese

¾ cup (90g) finely grated cheddar cheese

½ cup (120g) sour cream

2 tablespoons finely sliced chives

extra virgin olive oil, for drizzling

Preheat oven to 200°C. Place the potatoes in a roasting tray, rub with the salt and bake for 30 minutes. Using the back of a kitchen spoon, press down on the potatoes until squashed.

Place the butter and garlic in a jug and mix to combine, pour over the potatoes, top with the thyme and toss to coat.

Place the cheeses in a bowl and mix to combine. Sprinkle the cheese mixture over the potatoes.

Return the potatoes to the oven and cook for a further 10–12 minutes or until the cheese is melted and golden.

Place the sour cream and chives in a bowl and mix to combine. Drizzle with oil and serve with the potatoes. Serves 4.

There are no comments for this entry yet.