chicken master stock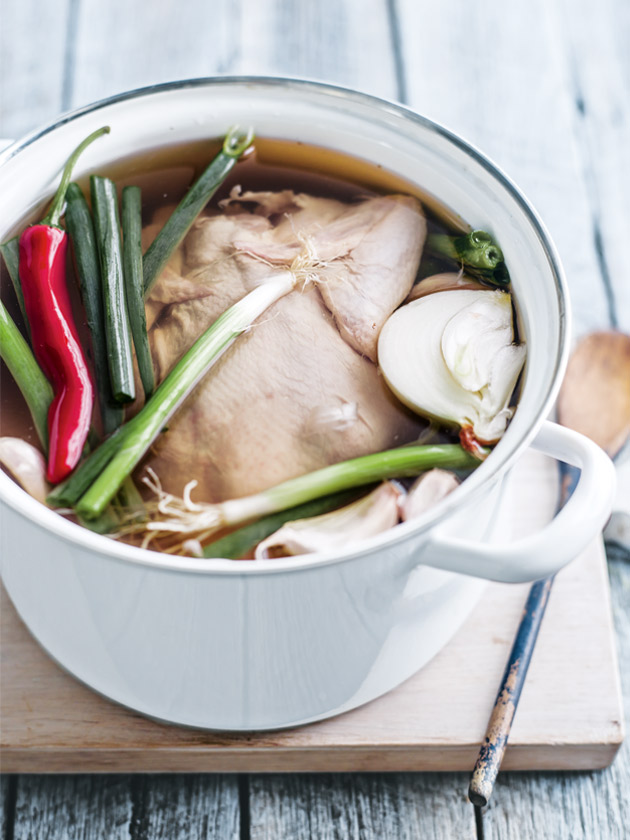 5 green onions (scallions), cut into lengths

1 brown onion, peeled and quartered

2 long red chillies

100g fresh ginger, peeled and sliced

6 cloves garlic, bruised

¼ cup (60ml) light soy sauce

1 cup (250ml) Chinese cooking wine (Shaoxing)

¼ cup (60ml) caster (superfine) sugar

4 litres water

1.8kg whole chicken

Place the green onion, onion, chilli, ginger, garlic, soy, cooking wine, sugar and water in a large saucepan over high heat and bring to the boil.

Add the chicken, breast-side down, and return to the boil. Reduce heat to medium and cook for 20 minutes.

Remove from the heat, cover with a tight-fitting lid and allow to stand for 1 hour. Serves 4–6.
+ You can strain the broth and use to make soups and shred the chicken for salads and sandwiches. Freeze the broth in airtight containers for up to three months.

Josephine Arborn
Have made this several times, it's simple and very delicious, it's a family fav and so easy and light….
Emily Collie
5 Stars! Absolutely delicious stock recipe - have made it three times now and will not go back. Chicken works perfectly with Donna's noodle soup recipe too.