crispy coconut pancakes
with salmon and asian herbs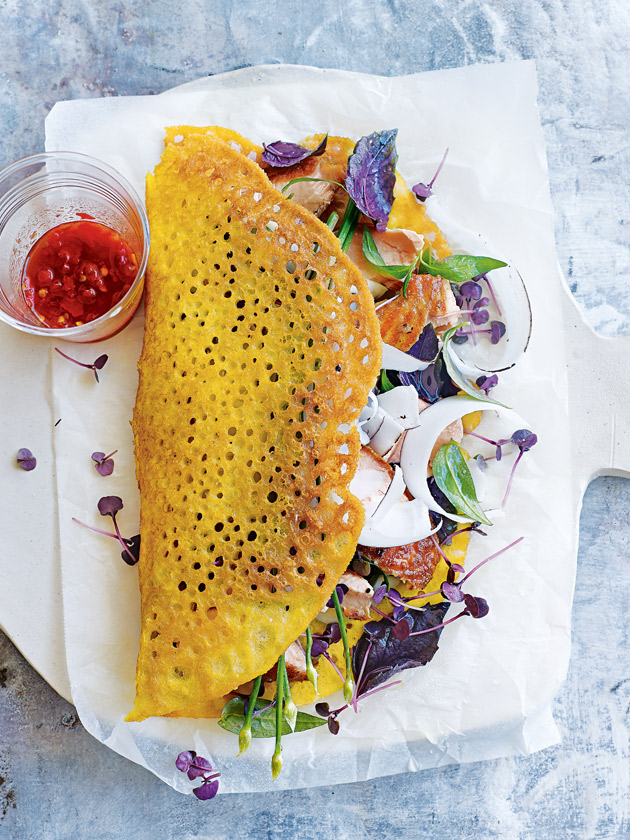 ¼ cup (60ml) peanut oil

4 x 180g salmon fillets, skin off

1 tablespoon rice flour

sea salt and cracked black pepper

2 cups Vietnamese mint leaves

2 cups purple basil leaves

1 bunch flowering garlic chives+

2 Lebanese cucumbers, peeled and thinly sliced

¼ cup (60ml) lime juice

1 cup shaved fresh coconut, chilli sauce and baby (micro) herbs to serve

coconut pancakes
2 cups (300g) rice flour

½ teaspoon ground turmeric

1 cup (250ml) coconut milk

2½ cups (625ml) chilled soda water

1 tablespoon fish sauce

To make the coconut pancakes, place the rice flour, turmeric, coconut milk, soda water and fish sauce in a large bowl and whisk to combine.

Allow the batter to stand for 20 minutes.

Heat 1 teaspoon of the peanut oil in a large non-stick frying pan over high heat. Add ½ cup (125ml) of the batter and swirl to coat the base of the pan. Cook for 2–3 minutes on one side or until the pancake is cooked through and the edges are lightly browned and crisp.

Drain on absorbent paper and repeat with the remaining oil and batter. Set aside and keep warm.

Wipe the pan clean and add the remaining oil.

Dust the salmon with rice flour, sprinkle with salt and pepper and cook for 3–5 minutes each side for medium rare or until cooked to your liking. Allow to cool slightly and break into big flakes.

Place the salmon, mint, basil, garlic chives and cucumber on one half of each pancake, drizzle with lime juice, top with the coconut and fold the pancake over to enclose.

Serve with chilli sauce and baby herbs. Serves 4–6.

+ You can buy flowering garlic chives at Asian grocery stores, supermarkets and some greengrocers.
There are no comments for this entry yet.