crispy slow-cooked pork shoulder,
green bean and pea salad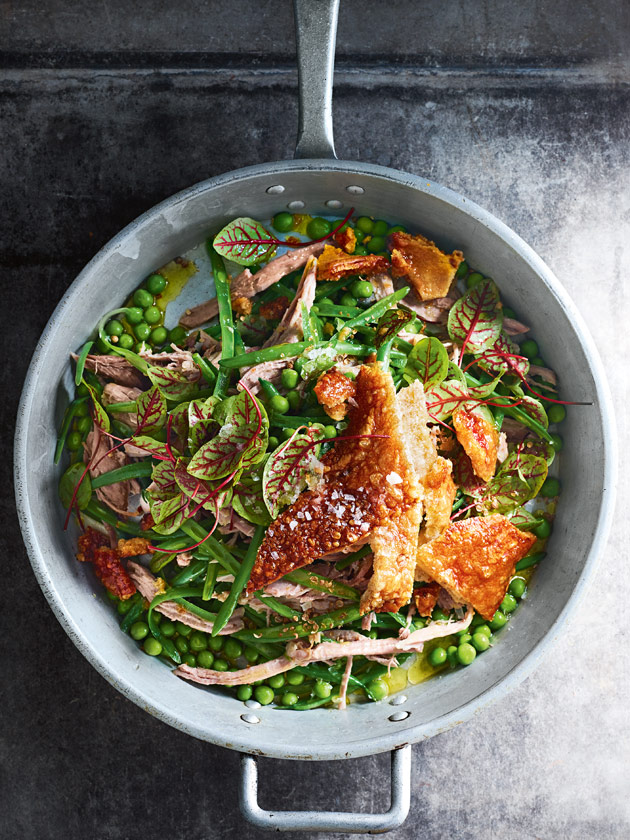 2kg bonelesss pork shoulder, skin on

1 cup (250ml) apple cider vinegar

2 bulbs garlic, halved

4 bay leaves

1 bunch tarragon

⅓ cup (60g) brown sugar

1 cup (250ml) water

1 tablespoon sea salt flakes

400g green beans, trimmed and shredded

1 cup (140g) frozen peas, thawed

2 cups red-vein sorrel leaves or baby spinach leaves

apple cider dressing
1 eschalot (French shallot), finely chopped

1 tablespoon apple cider vinegar

1 tablespoon extra virgin olive oil

1 teaspoon coriander seeds, toasted and crushed

Preheat oven to 200°C (400°F). Using a sharp knife, remove the rind from the pork and set aside. Butterfly the pork to create a 4cm-thick piece+.

Place the vinegar, garlic, bay leaves, tarragon, sugar and water in a large deep-sided baking dish and mix to combine. Add the pork, cover with aluminium foil and cook for 3 hours. Remove the foil and cook for a further 30 minutes.

While the pork is cooking, divide the rind between 2 oven trays and cook for 20 minutes or until crisp and golden. Remove from the tray and sprinkle with the salt. Set aside.

Cook the beans in a large saucepan of salted boiling water for 2 minutes or until al dente. Drain and refresh under cold water. Shred the pork and set aside to cool slightly.

To make the apple cider dressing, place the eschalot, vinegar, oil, salt, pepper and coriander seeds in a small bowl and mix to combine.

Place the beans, peas, sorrel and pork in a large bowl. Add the apple cider dressing and gently toss to combine. Top the salad with the pork crackling to serve. Serves 4–6

+ You can ask your butcher to butterfly the pork shoulder for you.
Photography: Chris Court
michelle mckernan
My family loved this dish and it was a competition to see who could have the leftovers for school the next day. To make the leftovers go further I added cous cous to the salad so no one was disappointed with their left over lunch. Easy to make and the house smells lovely whilst it is cooking