fish cakes with horseradish crème fraîche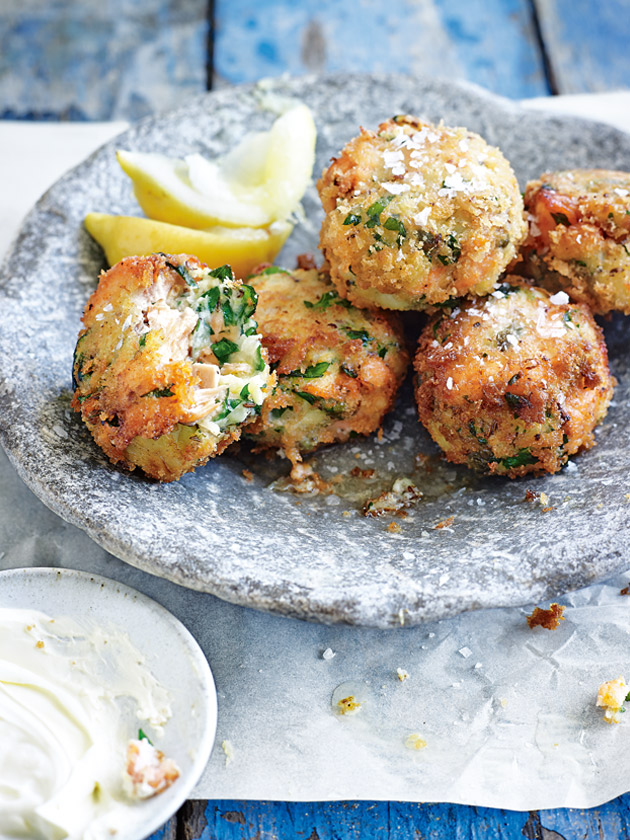 500g chat (baby) potatoes

4 cloves garlic, crushed

⅓ cup (80ml) extra virgin olive oil

2 tablespoons finely grated lemon rind

1 tablespoon lemon juice

sea salt and cracked black pepper

4 x 125g salmon fillets, skin off

1 tablespoon caraway seeds

⅓ cup (65g) baby capers, rinsed and drained

2 cups flat-leaf parsley leaves, roughly chopped

2 eggs

5 cups (350g) fresh white breadcrumbs

60g unsalted butter

⅔ cup (160g) crème fraîche

2 tablespoons lemon juice

2 tablespoons horseradish cream

lemon wedges, to serve

Place the potatoes in a medium saucepan of salted cold water over high heat and bring to the boil. Cook for 12–15 minutes or until very tender.

Drain and transfer to a large bowl with the garlic, 1 tablespoon of the oil, lemon rind and juice, salt and pepper and roughly mash with the back of a large kitchen spoon. Stir to combine and set aside.

Heat 1 tablespoon of the oil in a large non-stick frying pan over high heat. Sprinkle the salmon with salt and pepper and cook for 2–3 minutes each side for medium rare or until cooked to your liking. Remove from the pan and set aside.
Add the caraway seeds to the pan and cook for a further 30 seconds – 1 minute or until toasted.

Roughly flake the salmon and add to the potato mixture with the caraway seeds, capers, parsley, eggs and 1 cup (70g) of the breadcrumbs. Stir to combine. Shape the mixture into ¼-cup patties and press in the remaining breadcrumbs.

Heat half the butter and 1 tablespoon of the oil in a non-stick frying pan over medium heat. Cook the fish cakes in batches, using the remaining butter and oil, for 3–4 minutes each side or until golden and cooked through.

Place the crème fraîche, lemon juice and horseradish in a bowl and mix to combine. Serve the fish cakes with horseradish crème fraîche and lemon wedges. Makes 18.

There are no comments for this entry yet.