hot smoked trout and broccoli quiches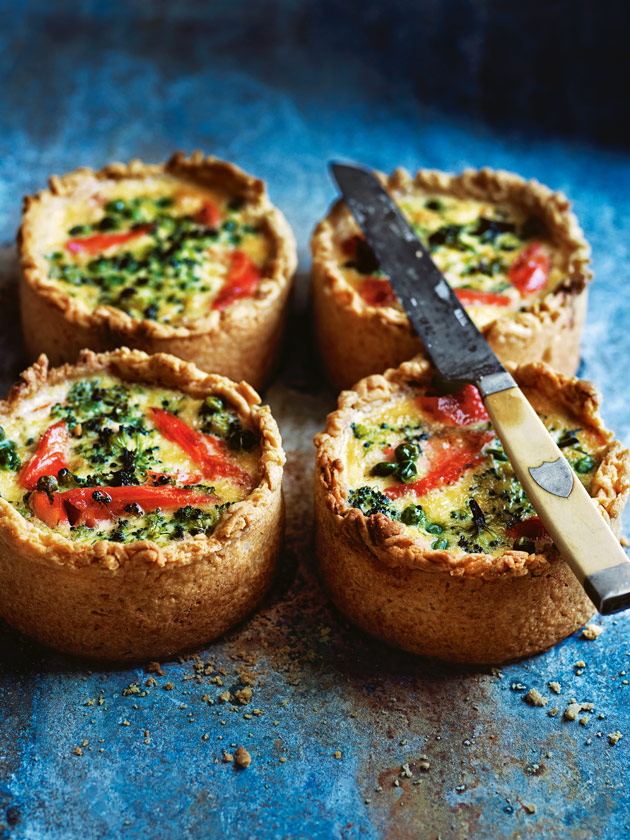 1 x quantity cheese pastry
(see link to recipe in step 1)

1 tablespoon extra virgin olive oil

1 onion, finely chopped

sea salt and cracked black pepper

150g broccoli, finely chopped

½ cup (60g) frozen peas, thawed

¼ cup tarragon leaves, finely chopped

½ cup (125ml) single (pouring) cream

½ cup (125ml) milk

4 eggs, lightly beaten

¼ cup (20g) grated parmesan

185g hot smoked trout, flaked

Prepare the cheese pastry
While the cheese pastry is chilling, preheat oven to 180°C (350°F). Lightly grease the base and sides of 4 x 4cm deep, 10cm round spring-form tart tins. Grate the pastry and press into the base and sides of the tins. Line the pastry with non-stick baking paper and fill with baking weights or uncooked rice. Place on a large oven tray and cook for 20 minutes. Remove the paper and weights and cook for a further 5–10 minutes or until pastry is lightly golden. Reduce heat to 160°C (325°F).
While the pastry is cooking, heat the oil in a large non-stick frying pan over medium heat. Add the onion, salt and pepper and cook, stirring occasionally, for 4 minutes. Add the broccoli and cook for a further 4 minutes or until tender. Add the peas and tarragon and toss to combine.
Place the cream and milk in a small saucepan over medium heat and bring to just below the boil. Place the egg and parmesan in a medium bowl and whisk to combine. Gradually add the cream mixture and whisk until smooth. Add the broccoli mixture and mix to combine.
Pour the egg mixture into the pastry shells and top with the trout. Cook for 35–40 minutes or until golden and set. Set aside for 15 minutes (see cook's tip, page 93) before removing from the tins to serve. Makes 4.
There are no comments for this entry yet.