katsu curry fried chicken burger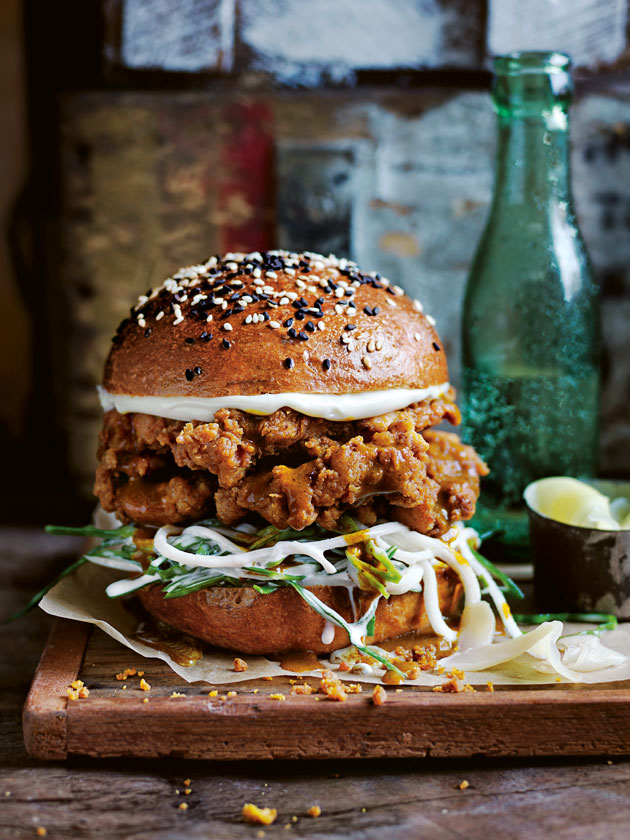 2 cups (160g) shredded green cabbage

1 cup (125g) peeled and shredded daikon

1 green onion (scallion), shredded

½ cup (160g) Japanese mayonnaise, plus extra to serve

4 sesame seed brioche buns, halved

pickled ginger, to serve

katsu curry fried chicken
¼ cup (30g) curry powder

2 tablespoons finely grated ginger

4 cloves garlic, crushed

2 tablespoons soy sauce

¼ cup (60ml) rice wine vinegar

1 tablespoon caster (superfine) sugar

4 chicken thighs (500g), trimmed and cut in half

1 teaspoon cornflour (cornstarch)

½ cup (125ml) water

vegetable oil, for deep-frying

1 cup (150g) plain (all-purpose) flour

2 teaspoons baking powder

To make the katsu curry fried chicken, place the curry powder, ginger, garlic, soy sauce, vinegar and sugar in 
a medium bowl and mix to combine. Reserve ¼ cup of the mixture and set aside.

Add the chicken to the remaining curry mixture and toss to coat. Set aside in the refrigerator to marinate for 30 minutes.

Place the reserved curry mixture, cornflour and water in 
a small saucepan and whisk to combine. Place over high 
heat and bring to a simmer. Cook, stirring occasionally, for 6–8 minutes or until thickened.

While the curry mixture is cooking, half-fill a large saucepan with the oil. Place over medium heat until it reaches 180°C (350°F) on a deep-frying thermometer. Place the flour and baking powder in a large zip-lock bag and shake to combine. Add the chicken and shake to coat. Fry the chicken, in batches, for 4 minutes or until cooked through. 
Set aside on paper towel to drain.

Place the cabbage, daikon, onion and mayonnaise in 
a large bowl and mix to combine. Divide the slaw between the base of the bun halves and top with the chicken and curry sauce. Spread the remaining bun halves with the extra mayonnaise and sandwich on top of the chicken. Serve with the pickled ginger. Makes 4.

donna hay team
Hi Fikna, we just use regular powdered curry powder from the supermarket. Happy cooking! The DH team
Fikna VanRossum
What curry powder is best to use