perfect prawn dumplings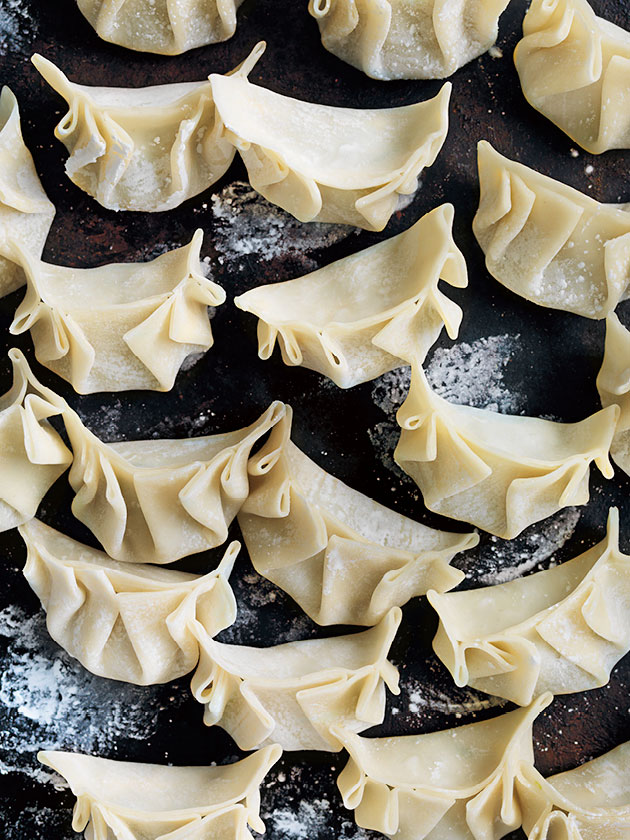 12 green (uncooked) prawns (shrimp) (600g), peeled, deveined and finely chopped+

2 tablespoons finely chopped water chestnuts

2 green onions (scallions), white part only, finely chopped

1 teaspoon finely grated ginger

1 tablespoon finely chopped coriander (cilantro)

1 tablespoon oyster sauce

1 tablespoon vegetable oil

1 teaspoon table salt

20 gow gee wrappers

Place the prawn, water chestnut, onion, ginger, coriander, oyster sauce, oil and salt in a medium bowl and mix to combine.

Place 5 of the gow gee wrappers on a clean surface and brush the edges with water++.

Place 1 heaped teaspoon of the prawn mixture in the centre of each wrapper. Fold the edges over, pinching gently to create pleats, and press together to seal. Repeat with the remaining gow gee wrappers and prawn mixture.
To steam, line the base of a large bamboo steamer with a steamer liner. Add half the dumplings to the steamer, ensuring they don't touch. Cover with a tight-fitting lid and place over a large saucepan of simmering water. Steam, misting with water occasionally, for 16–18 minutes or until cooked through. Remove from the steamer and keep warm. Repeat with the remaining dumplings. Makes 20. Serve with soy sauce.
NOTES
+ After peeling and deveining the prawns, you should have about 200g prawn meat.
++ Assembling the dumplings in batches helps to prevent the wrappers from drying out in the process. Cover the wrappers you're not using with a clean damp tea towel to keep them workable and soft.
TIP
Prepared dumplings are great to have on-hand in the freezer. Place them between sheets of non-stick baking paper in an airtight container and freeze for up to 3 months. Cook from frozen as per the recipes that follow.
Pamela Taylor
This recipe really is perfect and, like so many of Donna's dishes, is easy and quick but so, so good.
donna hay team
Hi Deanna, yes you can pan fry the dumplings. In Donna's book Basics to Brilliance she shows you how to do a fried dumpling, steamed and pan fried pot sticker all with the same dumpling filling. Happy cooking! The DH team
donna hay team
Hi Sarah, there are many options when filling dumplings.. Pork and cabbage, chicken, tofu, kimchi or mushrooms are just a few. But yes, the flavours and cooking times may vary slightly with each recipe. The DH team
Deanna Rossitto
Can I pan fry the dumplings? Would I have to steam them first then pan fry? Thanks Donna
Sarah Locke
I am allergic to prawns, so was wondering what I could use to substitute? Would cooking times or flavours used also need to be changed?
donna hay team
Hi Paula, the best way to keep the dumplings warm and stop them from drying out is to keep the steamer over a saucepan of warm water. If this is not possible wrap the steamers in warm damp tea towels before serving. The DH team
Paula Murray
Love this recipe! I'm going to make these for my wedding. But I'd appreciate your suggestions for how to keep these warm so that they don't dry out.