beer battered fish and chips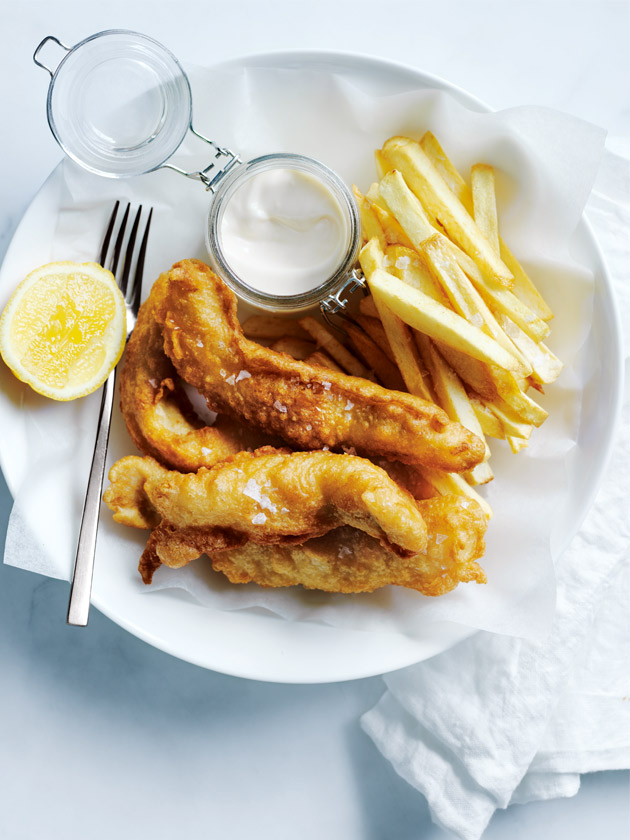 1¾ cups (260g) plain flour

1½ cups (375ml) beer

sea salt and cracked black pepper

1kg sebago (starchy) potatoes, cut into 7mm-thick

vegetable oil, for deep-frying

extra 1 teaspoon salt

800g white skinless fish fillets

lemon wedges and aioli, to serve

Place 1½ cups (225g) of the flour, beer in a bowl and season with salt. Whisk until smooth and set aside in the refrigerator.

Place the potato in a large bowl, cover with cold water and wash well. Drain and dry the potato with clean tea towels. Half-fill a large saucepan or wok with oil and place over medium heat until the temperature reaches 190°C on a deep-frying thermometer. Cook the potato, in small batches, for 6–7 minutes until cooked and light golden brown. Remove using a slotted spoon and drain on paper towel. Sprinkle with the salt, set aside and keep warm.

Place the remaining flour, pepper and the extra salt on a large tray and toss to coat the fish. Dip the fish in the batter, allowing the excess to drip off.

Cook the fish, in batches, for 3–4 minutes or until the fish is cooked and the batter is golden and crisp. Serve with the chips, lemon and aioli. Serves 4.

There are no comments for this entry yet.