zucchini and provolone tart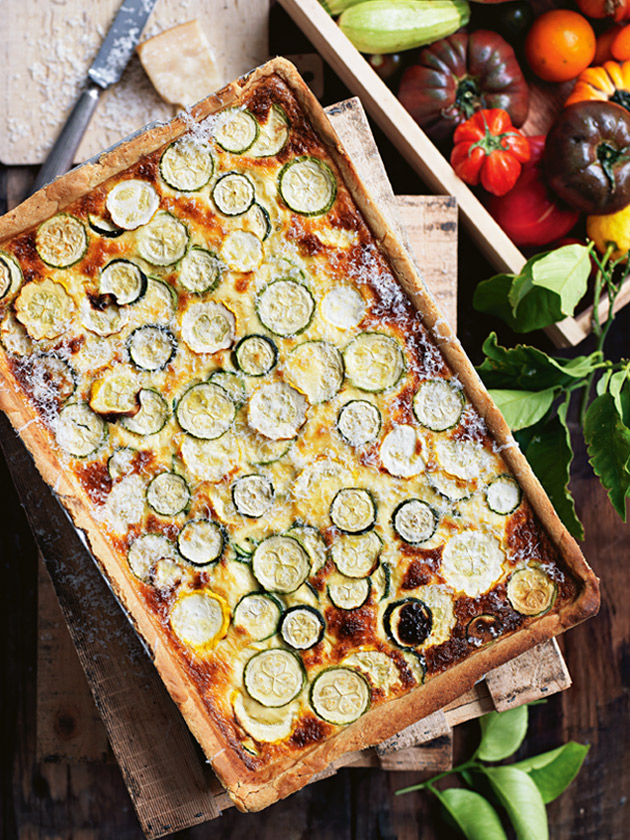 6 eggs

sea salt and cracked black pepper

¾ cup (180ml) milk

¾ cup (180ml) single (pouring) cream

¾ cup (60g) finely grated parmesan, plus extra to serve

350g provolone, thinly sliced

6 yellow squash (220g), thinly sliced

2 green zucchini (courgette) (200g), thinly sliced

2 grey zucchini (courgette) (200g), thinly sliced

pastry
2¾ cups (410g) plain (all-purpose) flour

1½ teaspoons sea salt flakes

300g cold unsalted butter, chopped

⅓ cup (80ml) iced water

Preheat oven to 200°C (400°F). To make the pastry, place the flour, salt and butter in a food processor and process until the mixture resembles breadcrumbs. With the motor running, gradually add the water and process until the mixture comes together to form a dough. Shape into a disc, wrap in plastic wrap and refrigerate for 1 hour. Roll out the dough on a well-floured surface to 5mm thick. Lightly grease a 24cm x 34cm x 3.5cm rectangular tin. Line the tin with the pastry, allowing a 3cm overhang, and reserve any trimmings. Line the pastry case with non-stick baking paper, fill with baking weights or uncooked rice and bake for 20 minutes. Carefully remove the baking weights and paper+. Reduce oven to 180°C (350°F) and bake for a further 15–20 minutes, or until the pastry is lightly golden.
Place the eggs, salt and pepper, milk, cream and parmesan in a large bowl, whisk to combine and set aside. Place the provolone, in a single layer, over the base of the tart. Top with the squash and zucchini and pour the cream mixture over the top. Bake for 45–50 minutes or until golden and just set. Set aside to cool to room temperature.
Using a small serrated knife, carefully trim the overhanging pastry and discard. Sprinkle with extra parmesan to serve. Serves 6–8.

+ After you first bake the case, you may notice a few cracks in the pastry. Use the reserved trimmings to patch up any holes before baking again.
There are no comments for this entry yet.