pork and ginger potstickers with ginger oil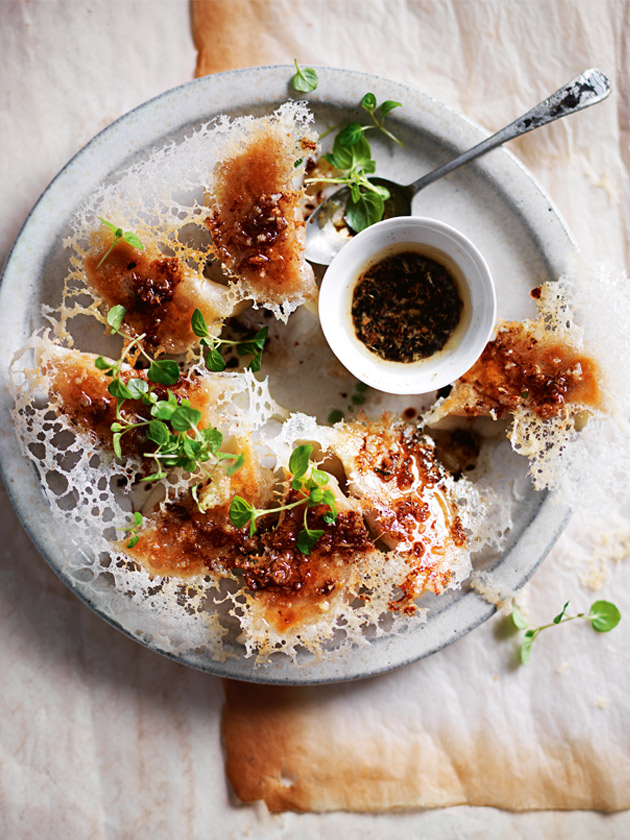 200g pork mince

1 clove garlic, crushed

2 green onions (scallions), finely chopped

1 tablespoon finely grated ginger

1 tablespoon soy sauce

1 teaspoon caster (superfine) sugar

½ teaspoon dried chilli flakes

sea salt and cracked black pepper

16 store-bought gow gee wrappers

1 cup (250ml) water, plus extra for brushing

2 teaspoons cornflour (cornstarch)

1 tablespoon vegetable oil

micro (baby) mint leaves, to serve

ginger oil
¼ cup (60ml) vegetable oil

1 tablespoon grated ginger

½ teaspoon sea salt flakes

1 tablespoon Chinese black vinegar

To make the ginger oil, heat the vegetable oil in a small saucepan over high heat for 1 minute. Place the ginger in a heatproof bowl. Carefully pour the oil over the ginger and set aside to cool slightly. Add the salt and vinegar and mix to combine. Set aside.

To make the dumplings, place the pork, garlic, onion, ginger, soy sauce, sugar, chilli, salt and pepper in a bowl and mix well to combine. Place the gow gee wrappers on a clean work surface and brush the edges of each of the wrappers with water. Place 2 teaspoons of the pork mixture in the centre of each wrapper and pinch the sides together to seal. Set aside.

Place the water and cornflour in a small bowl and whisk to combine. Heat half the oil in a 16cm non-stick frying pan over medium heat. Add half the dumplings, flat-side down, and cook for 2 minutes. Pour over half the cornflour mixture, cover with a tight-fitting lid and cook for a further 3 minutes. Uncover and cook for 3–4 minutes or until the water has evaporated, leaving a golden lattice. Invert dumplings onto a plate and repeat with remaining dumplings and ingredients. Serve with the ginger oil and mint leaves. Makes 16.

There are no comments for this entry yet.