rice and broccoli tabouli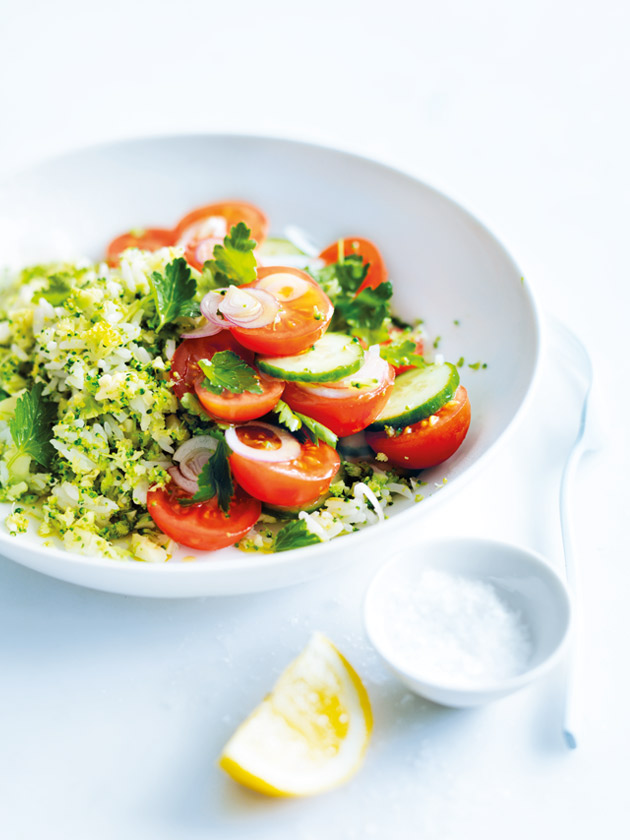 1 cup (200g) jasmine rice

1½ cups (375ml) water

¼ cup (60ml) lemon juice

¼ cup (60ml) extra virgin olive oil

sea salt and cracked black pepper

350g broccoli, cut into florets

250g cherry tomatoes, halved

1 small cucumber, thinly sliced

1 small red onion, thinly sliced

1 cup flat-leaf parsley leaves

lemon wedges, to serve

Place the rice and water in a medium saucepan over high heat. Bring to the boil, cover and reduce the heat to low. Cook for 8–10 minutes or until the rice is tender and the water has been absorbed. Allow to cool slightly. While the rice is cooking, place the lemon juice, olive oil, salt and pepper in a small bowl and whisk to combine.
Place the broccoli in the bowl of a food processor and process until fine. Transfer to a large bowl, add the rice and half the dressing and toss to combine. Divide the mixture between plates and top with the tomato, cucumber, onion and parsley. Drizzle with the remaining dressing and serve with the lemon wedges. Serves 4.

Melanie Colvin
Good one, but I am going to try using a brown rice next time. I think for us the nutty flavour of brown rice will suit our palate.