rice balls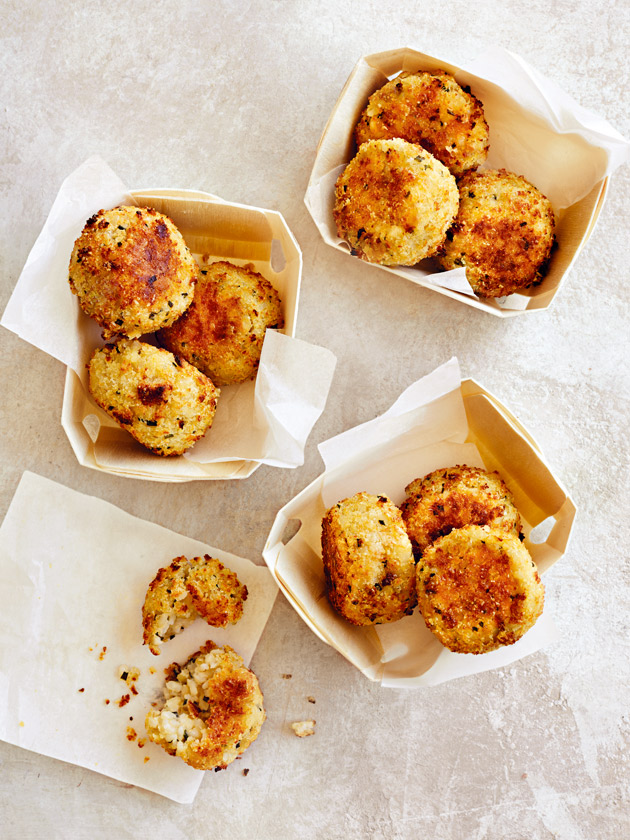 1½ cups (300g) cooked brown rice

⅓ cup (80g) fresh firm ricotta

½ cup (40g) finely grated parmesan

¼ cup (12g) chopped chives

1 cup (70g) fresh sourdough or wholemeal breadcrumbs

2 tablespoons extra virgin olive oil
Preheat oven to 220°C (425°F). Line a baking tray with non-stick baking paper.

Place the rice, ricotta, half the parmesan and the chives in a big bowl and mix really well to combine, using a spatula.

Place the breadcrumbs and the remaining parmesan in a shallow bowl. Add the oil and mix with a spatula to combine.

Using clean hands, shape 2 tablespoons of the rice mixture into a ball. Roll the ball in the breadcrumb mixture, pressing with your fingers to coat it, then place it on the prepared tray. Repeat with the remaining rice mixture and breadcrumbs.

Bake for 10 minutes. Remove the tray from the oven and carefully turn the rice balls over with tongs. Bake for another 10 minutes or until golden brown and crunchy on the outside. Remove the rice balls from the oven and serve them warm or cold, with veggies. Makes 10.
There are no comments for this entry yet.