ricotta, salami and basil jacket potatoes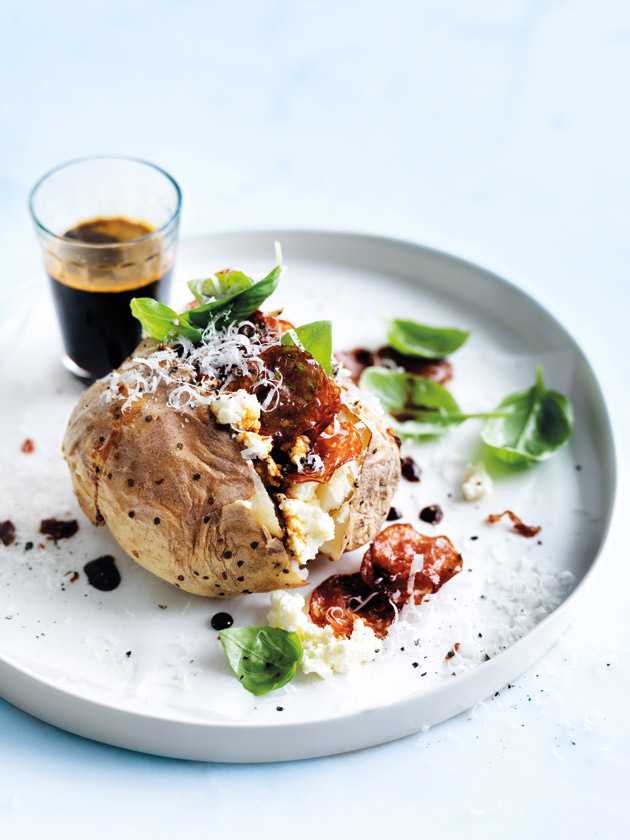 4 x 350g sebago (starchy) potatoes, scrubbed and patted dry

2 tablespoons sea salt flakes

40g thinly sliced salami

1½ cups (300g) fresh ricotta

2 tablespoons milk

½ cup (40g) finely grated parmesan, plus extra to serve

½ cup basil leaves
vincotto, for drizzling

Preheat oven to 200°C. Place the potatoes on an oven tray, pierce with a fork and rub with the salt. Bake for 1 hour–1 hour 10 minutes or until cooked through. While the potatoes are cooking, place the salami on an oven tray lined with non-stick baking paper and cook for 4–5 minutes or until golden and crispy. Set aside.

Place the ricotta, milk and parmesan in a bowl and mix to combine. Using a small sharp knife, make a slit in the potatoes and carefully squeeze the sides to open. Fill with the ricotta mixture, salami and basil leaves. Top with extra parmesan and drizzle with vincotto to serve. Serves 4.

There are no comments for this entry yet.